Aligning Your Enterprise Network With SaaS
By The Console Connect Team|27 September, 2021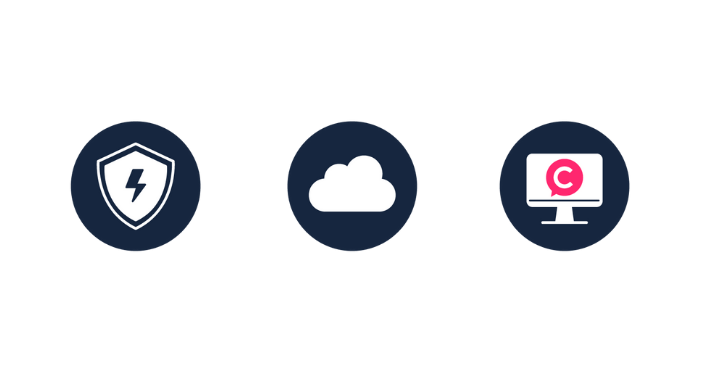 Just as mass adoption of the public cloud ushered in an era of digital transformation for most enterprises, the ready availability of Software-as-as-Service (SaaS) applications is changing the very DNA of organisations.
In this article we look at the role that connectivity can play in improving the performance of your mission critical applications.
Chances are your business already uses a variety of SaaS tools in its day-to-day operations. If you're a network manager or engineer you are probably aware of those apps used company-wide and will be expected to plan the corporate network to support the likes of Office 365, Zoom, or Slack.

But the ease of adoption of SaaS means parts of the business may have integrated tools of their own accord, and some of those tools may even now be mission critical.
For example, your sales and marketing teams may have come to rely on software such as Hubspot to manage marketing leads, or they may use tools such as Drift or Zendesk to help with customer support.

This breaks the old model of application deployment and can present new challenges for organisations.
SaaS changes the ownership model
The management and deployment of these types of applications used to be overseen by IT departments, but the nature of easy procurement of SaaS apps has increased the number of owners within an organisation - which could potentially now be anyone with a corporate credit card.

Furthermore, the typical SaaS model of tiered subscription services, often including a free trial, makes it easy for teams to get hooked.
Yet while the procurement model has shifted, ultimately, the performance of those apps is a challenge that still sits squarely with the network management team, whether they know a particular app is being used or not.

From this perspective, it's easy to underestimate just how reliant your company is on the cloud. Bear in mind that the vast majority of SaaS products run in some public cloud instance themselves.
You've probably heard the stories from peers: "As collaboration tools from provider X became more mission critical to our business, we needed to increase connectivity to cloud provider Y because X happens to run out of a Y instance."

"It used to be that software was rolled out on-premise in the data centre and the network team would be involved from the get-go to ensure the corporate MPLS network had enough capacity at the right locations to support adoption of the software over the next three years. This kind of future planning was essential because the contract for the MPLS network would be multi-year," says Jay Turner, VP of Development and Operations at PCCW Global.

"But since enterprise buyers began to adopt the subscription model outside of the traditional procurement channels, accessing SaaS apps over the public internet became easy enough, but user experience suffered. The problem got kicked back to the network team and now enterprises increasingly want to connect to the SaaS providers directly."
Taking the pain out of direct connections
Connecting directly to a SaaS provider isn't easy. It can be a convoluted and complicated process that may require striking individual peering agreements with each provider. Something enterprises don't necessarily have experience with.

"PCCW Global has taken care of all the peering agreements with the extended SaaS ecosystem, establishing PoPs in the same data centres these providers operate out of and giving enterprises a single marketplace to browse, discover, and connect directly to their chosen SaaS apps," explains Jay.

Being able to plug into a SaaS app directly from their own data centre gives enterprises the levels of security and reliability that has historically been used for mission critical infrastructure, which avoids sending traffic over the public internet.

"A dedicated connection mitigates the security risks of having multiple third parties intermingled on the link and cuts the number of hops between the enterprise user and the SaaS instance from four or more, down to one. This reduces the vectors for potential security breaches including things like DDoS attacks and BGP hijacking," says Jay.

"It also gives users a better experience of that SaaS app in terms of performance, which is especially noticeable when it comes to real-time communication or other low-latency dependent applications."
Combining SaaS with NaaS
With Console Connect's Network-as-a-Service (NaaS) offering, enterprises are able to set up and tear down dedicated links to SaaS providers on the fly, via a dedicated portal or API. If more capacity is required, it can be dialled up for specific connections from the same management portal.

"As a network manager, this is a significant safety net. If you make a mistake with your capacity allocation at 8am, you can fix it by 9am – without calling your network provider and waiting for them to go to the data centre to change a cable to a different port, something that might take weeks," says Jay.

This new SaaS connectivity model also removes the need for lengthy contracts that locks a business into the same infrastructure for years.

Using Console Connect, organisations can accelerate their time to market, spinning up new services quickly across the globe, keeping their customers happy and improving time to revenue.
Employees will experience the application on a high-quality, uncontended, low-latency network backed with a stringent SLA, increasing productivity.

Through the Console Connect MeetingPlace, your business can order and provision services from a growing range of SaaS providers, including RingCentral, Netsapiens, 8x8 and more, then manage and monitor your network connections to those SaaS providers in real-time.

Log-in to Console Connect and discover which of your SaaS providers are already part of our ecosystem.