Bringing Australia Closer To Asia Through Fast On-Demand Connectivity
By Alex Hawkes|7 September, 2020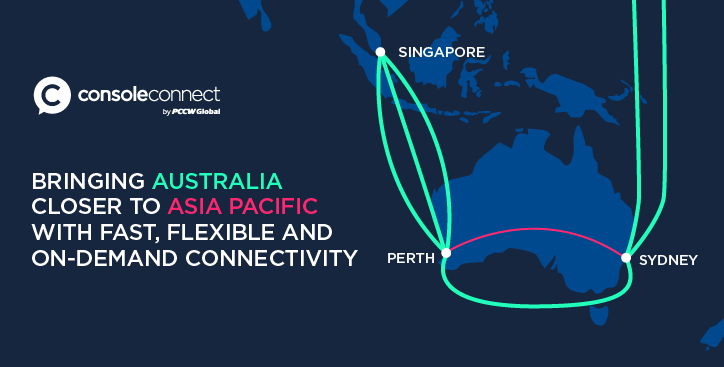 Australian businesses now have more choice than ever before when it comes to connecting to key markets across Asia. In the not-so-distant past, the country was reliant on just a handful of subsea cable systems to connect it to the rest of the world.
The introduction of new and more modern cable systems – capable of handling much larger volumes of capacity at far greater speeds - has helped transform the country's international connectivity and facilitated the growth of Australian business into neighbouring Asian markets.
To the west, multiple subsea cable systems now connect Australia directly to Singapore and the rest of South East Asia. To the east, multiple routes connect the capital Sydney to Papua New Guinea or Guam, where traffic is redirected further north to Hong Kong, Korea and Japan.
Perth and Sydney are directly connected both overland and undersea; through a terrestrial cable running the length of the country and a dedicated subsea cable system running along the southern coast. This adds significant resiliency and redundancy to Australia's subsea cable network.
At the same time, Australia's subsea cable systems are also opening up new opportunities for digital trade. This was highlighted earlier in August when Australia and Singapore signed a landmark Digital Economy Agreement (DEA) designed to further enhance digital trade opportunities for businesses and consumers in both countries. Alongside Singapore, Australia has also been growing its cross-border digital trade with Indonesia, Malaysia, Japan and Korea. E-commerce and cloud have been two major drivers of this.
Australia is now one of the region's largest cloud markets and one of the most advanced in terms of its use of public cloud. According to research by BCG, the economic impact of the deployment of public cloud in Australia is expected to reach $110 billion over the next five years, or equivalent to 55% of the country's GDP.
Next to China, Australia also has the second highest cross-border online penetration rates in Asia Pacific. Online shoppers from Australia also buy from China more than any other country, according to a recent report by ResearchAndMarkets.
How Console Connect can help
The Console Connect Network as a Service (Naas) platform offers a much faster, more secure and flexible way for Australian businesses, carriers and service providers to connect to key markets across the Asia Pacific region.
The automated Console Connect fabric offers unrivalled access and reach throughout Asia Pacific, enabling Australian businesses to spin-up instant dedicated layer 2 connections between key data centres, clouds and other business partners located across the region.
The benefits for Australian businesses using our global NaaS on-demand platform include:
Capacity: High availability of capacity on multiple major subsea cables routes.
Interconnect: More and more data centres are becoming Console Connect-enabled in Australia each month.
Flexibility: Users can turn dedicated bandwidth up and down as they need and on-demand.
Redundancy: Ensure your business critical connections are supported by multiple paths.
Pricing: Competitive Pay As You Go pricing for on-demand bandwidth between Australia and key Asia Pacific markets, such as Singapore, Hong Kong, Indonesia, Malaysia and Japan.
Global reach: Expand your business beyond Asia Pacific with on-demand bandwidth to more than 30 countries outside the region, including markets in Europe, Africa, North America, Latin America and the Middle East.
The ecosystem is always growing and Console Connect's on-demand platform is now available in over 55 data centres across 12 counties in Asia Pacific.