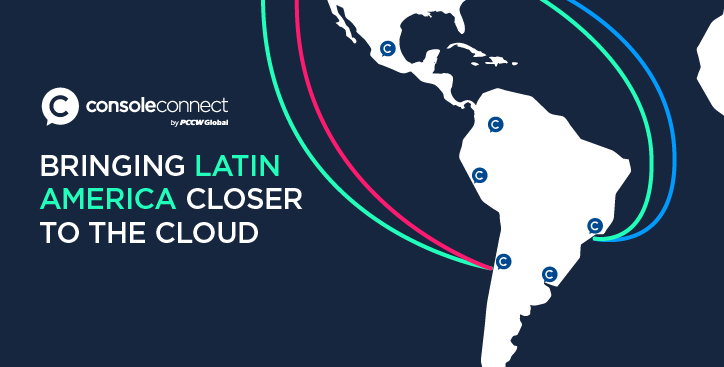 Bringing Latin America Closer To The Cloud
19 October, 2020 by Alex Hawkes
Latin America's cloud ecosystem stands on the brink of change.
Traditionally, businesses in the region have relied on access to cloud infrastructure and services hosted in the US. But the acceleration of cloud adoption in Latin American markets, such as Brazil, Argentina, Chile and Mexico, is attracting the attention of hyper-scale cloud providers and leading to new investment in data centres.
New clouds on the horizon
The Latin American cloud computing services market is expected to expand at a CAGR of more than 22% between 2019 and 2023, according to a report from ResearchandMarkets. This growth is being attributed to the wide adoption of SaaS applications, such as email, CRM and ERP, by enterprises in the region. SaaS is usually seen as a good entry point into cloud computing for SMEs, but larger enterprises in Latin America are also pursuing hybrid and multi-cloud environments.
Until recently, these businesses have largely accessed cloud infrastructure located in the US – typically via subsea cable routes connecting the east coast of the continent to Miami and New York. Alternatively, they've turned to the west coast subsea cable systems to access cloud infrastructure in New York.
This market dynamic is starting to change as hyper-scale cloud providers look to host more of their services in the region.
So far, AWS has focused much of its attention and investment on Brazil. The cloud provider launched its first Latin American cloud region in Sao Paulo in 2011, and, according to reports, is said to be investing a further $240 million in Brazilian cloud infrastructure over the next two years. It has also established edge locations in Colombia, Chile and Argentina.
Meanwhile, Microsoft Azure has confirmed that it is building a new cloud data centre region in Mexico as part of a $1.1 billion investment in the country over the next five years. The new cloud data centre region will provide highly available, scalable and secure cloud services across Mexico with the option of data residency in the country. The cloud provider also currently operates a cloud region in Brazil.
Earlier this year, Google Cloud announced that it would be launching its second cloud region in Latin America. The cloud provider opened its first cloud region in Sao Paulo in 2017, and is now launching a second in Santiago. Google has operated a data centre in Chile since 2015, and said in a recent blog post that "we have seen Chilean companies, large and small, accelerate their adoption of the cloud, transforming their businesses and offering new products and services to their local markets".
Digitisation of businesses in Latin America - particularly in key sectors such as media and entertainment, banking and financial services, and government – will only accelerate cloud adoption in the region. Coupled with further data centre construction in key markets such as Brazil, Argentina and Chile, this is expected to pave the way for a more robust cloud ecosystem in the region in the years ahead.
HOW CONSOLE CONNECT CAN HELP
The Console Connect Network as a Service (Naas) platform offers a much faster, more secure and flexible way for Latin American businesses, carriers and service providers to connect to key data centres and cloud infrastructure in the US.
The benefits for Latin American businesses using our on-demand platform include:
Interconnect: Latin American businesses can interconnect directly to the platform from a growing number of cities, including Sao Paulo, Mexico City, Buenos Aires, Lima, Bogota and Santiago.
Connect to cloud: Instantly and directly access all major clouds, including AWS, Microsoft Azure, Google Cloud and more.
Flexibility: Users can turn dedicated bandwidth up and down as they need and on-demand.
Capacity: High availability of capacity on multiple subsea cables connecting the region to the US.
Redundancy: Ensure your business critical connections are supported by multiple paths.
Pricing: Competitive Pay As You Go pricing for on-demand bandwidth between Latin America and North American cities, such as Miami, New York and Los Angeles.
Global reach: Expand your business beyond Latin America with on-demand bandwidth to more than 40 countries worldwide, including markets in Europe, Africa, North America, Asia and the Middle East.
Sign-up to Console Connect and begin making dedicated layer 2 connections on-demand between key data centres, clouds and other business partners located across Latin America.