How seamless connectivity is driving the evolution of broadcast media
By Alex Hawkes|23 August, 2023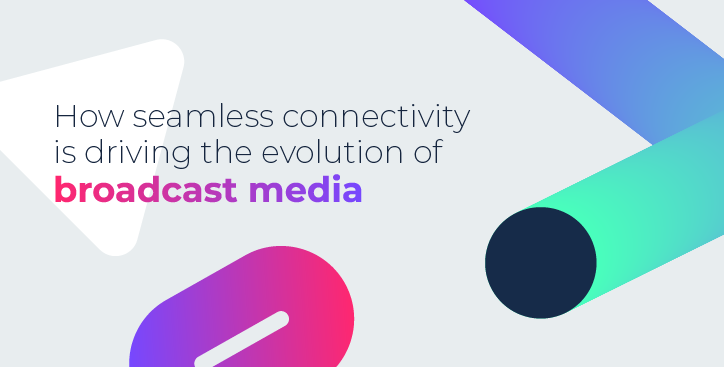 The way content is created, distributed, and consumed has changed a lot over the last decade with the introduction of streaming and on-demand viewing. Media sector revenues are growing, but so is the cost to produce content and manage complex digital ecosystems.
So how can media and broadcasting companies simplify network complexity and improve performance, all while delivering great content to hungry audiences?
First, let's look at the three key areas for connectivity in media and broadcasting.
Three focus areas for media sector connectivity:
Corporate infrastructure: connecting different office sites, filming locations, cloud platforms and data centres
Production workflows: ensuring the rapid, accurate and secure exchange of data during the production of content
Transmission and distribution of content: delivering content to audiences securely and with low latency.

As reported by IABM, many media sector companies are now leveraging cloud technology to assist in these three areas.
But leveraging different cloud solutions has led to complexity, as well as cost control issues. Egress costs charged by leading cloud providers for the transferal of data can mean high overheads for data-intensive industries like media.


Leveraging SDCI to enable the most effective cloud-based production
Media companies need seamless network connectivity to enable high performance in the three key business functions of corporate infrastructure, production workflow and transmission and distribution.
They can achieve that by leveraging Software Defined Cloud Interconnect (SDCI) platforms. Here's a list of the capabilities and benefits of SDCI platforms:
1. High Network Performance
SDCI platforms are pre-integrated with cloud providers, eliminating the effort of network configuration and giving the team automated, self-service access to multi-cloud services.
With the ability to self-provision Layer 2 or Layer 3 network connections to any major cloud platform provider worldwide, the business can ensure always-on service and the ability to scale up or down to meet demand.
2. Security
SDCIs bypass the public internet with private and dedicated network connections. As well as reducing the risk of unauthorised access, they are better positioned to support security measures like encryption and access controls.
3. Cost
SDCIs can flex bandwidth and adjust network capacity as and when it's needed. This self-service, Pay as You Go approach allows for greater cost control and helps avoid data egress charges.
4. Efficiency
SDCIs enable media and broadcasting companies to spin network connections up and down as needed. This means companies can access and allocate connectivity resources more efficiently and operate with greater agility.
5. Multi-cloud adoption
SDCIs enable companies to achieve successful multi-cloud adoption. This means the ability to transfer large data volumes between multiple clouds, data centres, and network locations with just one click. This could be between AWS and Google Cloud for a single day via a private high bandwidth connection, or through a cloud mesh connecting AWS in Singapore to AWS in Chicago, to Microsoft Azure in Frankfurt, and so on. Inter-cloud connections are created seamlessly and at a far lower cost than transferring data on the public internet.
With SDCI, organizations can connect and transfer data between any other partner or customer on the platform, creating a truly connected community.

The future of media connectivity
The power to deliver great experiences to both employees and consumers, whenever and wherever needed, will be a winning characteristic as the media and broadcasting industry continues to adapt.
However, the right network foundations must be in place for media companies to grasp the opportunity. By leveraging SDCIs to achieve high-performance connectivity, they can establish those foundations by fully connecting the digital business ecosystem and accelerating collaboration and creativity.