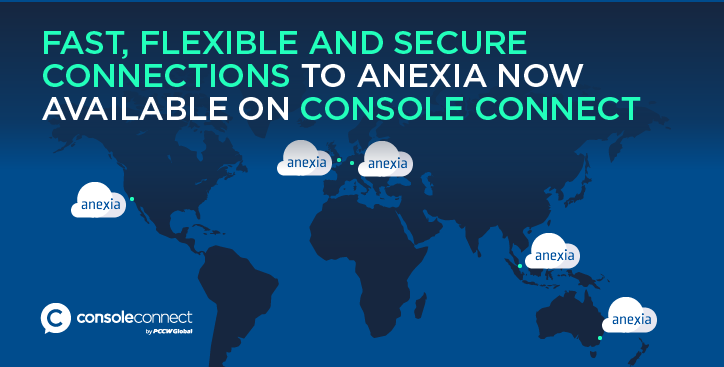 Introducing Our Newest Cloud Partner… Anexia
02 November, 2020 by Alex Hawkes
When it comes to selecting a cloud provider, today's enterprises have more choice than ever before.
That's why Console Connect is continuing to expand our cloud partner ecosystem and enable our users to directly connect with more cloud providers worldwide
We'd like to take a moment to introduce the latest cloud provider to join our ecosystem… Anexia.
Who is Anexia?
Anexia began life as a conventional internet service provider in 2016 but has since evolved in to an IT service provider specialising in individual cloud and managed hosting solutions, as well as individual software and app development.
Anexia runs its own, independent data centres, and employs over 200 people in over 10 offices in Europe and the US. It has 90 international server locations and addresses the needs of 10,000 active customers.
What type of cloud solutions does Anexia offer?
Anexia describe themselves as a "digitalisation partner with a diverse portfolio that fits without compromises modularly to the needs of our customers".
So, for example, when it comes to managed hosting, this means the company offers custom-configurable servers that are available to customers in a variety of components on a managed basis. Working alongside the customer, Anexia puts together a package that best suits their infrastructure needs, according to speed, size, scalability, high availability etc.
Likewise, its virtual data centre offering enables a customer to determine how much processing power, memory, disk capacity and bandwidth its server needs, which can be adjusted accordingly. The customer also has the choice of virtual hardware, such as firewalls, storage and load balancers, as well as services such as anycast, hybrid cloud and more.
What type of customers does Anexia work with?
Anexia works with global service providers and enterprises through to local businesses and start-ups. It also specialises in a number of industry verticals:
E-commerce: Anexia supports customers in operating successful online stores and other e-commerce opportunities.
Gaming:

Anexia's gaming customer base has included the likes of EA Sports, Smashcast and Twitch. It currently hosts a major location for global gaming platform, G-Core Labs, the distributor of Wargaming, and also hosts the majority of TeamViewer's global platform traffic.

Financial services:

Anexia's cloud and data centres meet the financial services sector's needs for low latency, high availability and certified security.

Start-ups:

Anexia also offers flexible and scalable solutions for start-ups.
How can I connect to Anexia using Console Connect?
Console Connect users can now self-provision private and direct layer 2 connections to Anexia's cloud services.
These connections bypass the public internet, which essentially gives Console Connect users a private gateway to the Anexia Cloud. This means:
Greater performance: Owning the underlying network enables the Console Connect platform to deliver uncontended service across its fabric with assured quality of service and the ability to scale and flex high-speed connectivity on-demand.
Global reach: Connect across one of the largest MPLS networks in the world, spanning more than 3,000 cities and 160 countries.
Security: PCCW Global's private MPLS network isolates traffic from the public internet and delivers stringent privacy and security policies required by today's businesses.
Direct interconnects are currently available from Console Connect to the Anexia Cloud in Frankfurt, London, Singapore, Sydney and Los Angeles.
How can I sign up?
If you're looking for private connectivity to Anexia but you're not already a Console Connect user then register as a member now.