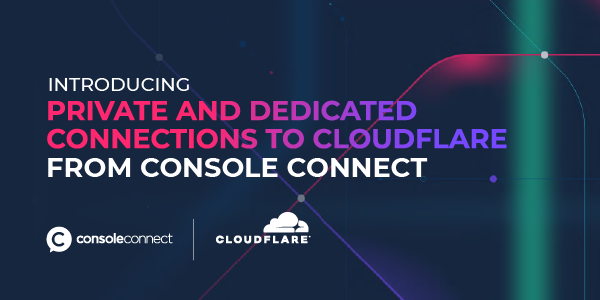 Introducing Private And Dedicated Connections To Cloudflare From Console Connect
05 August, 2020 by Alex Hawkes
There's never been a more important time for enterprises to secure their networks. That's why we've recently partnered with Cloudflare to enable private and dedicated connections from Console Connect to Cloudflare's network and services – providing enterprises with improved security and network performance.
As of today, users can log-in to Console Connect and begin self-provisioning private and direct Layer 2 connections to Cloudflare's global network. These connections bypass the public internet and essentially give Console Connect users a private gateway to a range of Cloudflare network solutions, which include:
DDoS protection
Next-gen firewall
Traffic acceleration
As a Cloudflare Network Interconnection (CNI) partner, Console Connect has enabled direct on-ramps to the Cloudflare network across cities in Asia, Africa, Europe and North America.
As well as improved efficiency, price and performance, this also means greater choice for enterprises who are looking to connect to Cloudflare.


What are the benefits of using Console Connect to access the Cloudflare network?
Unlike other interconnection platforms on the market, only Console Connect can provision private connectivity to Cloudflare across a Tier 1 global IP network. That's because our automated fabric is underpinned by PCCW Global's leading IP backbone. This means:
Greater performance: Owning the underlying network enables the Console Connect platform to deliver uncontended service across its fabric with assured quality of service and the ability to scale and flex high-speed connectivity on-demand
Global reach: Connect across one of the largest MPLS networks in the world, spanning more than 3,000 cities and 160 countries
Security: PCCW Global's private MPLS network isolates traffic from the public internet and delivers stringent privacy and security policies required by today's businesses
Which Cloudflare products benefit from direct and private connections?
There are some compelling use cases for using CNI instead of the public internet to connect to Cloudflare.
Take the example of CloudFlare's Magic Transit service, which protects data centre and branch networks from unwanted attack and malicious traffic. By pairing Magic Transit with CNI, enterprises can decrease jitter and drive throughput improvements, further hardening infrastructure from attack.
Other Cloudflare products that benefit from private connectivity include:
Cloudflare Access: Cloudflare Access replaces corporate VPNs with Cloudflare's network.
CDN: Cloudflare's CDN places content closer to visitors, improving site speed while minimizing origin load.
Cloudflare Workers: Workers is Cloudflare's serverless compute platform.
To find out more about the benefits of using private connections to access Cloudflare products, refer to this Cloudflare blog.


Where are interconnections to the Cloudflare network available?
Console Connect is now offering direct on-ramps to Cloudflare's network in locations spread across major cities in Asia, Africa, Europe and North America.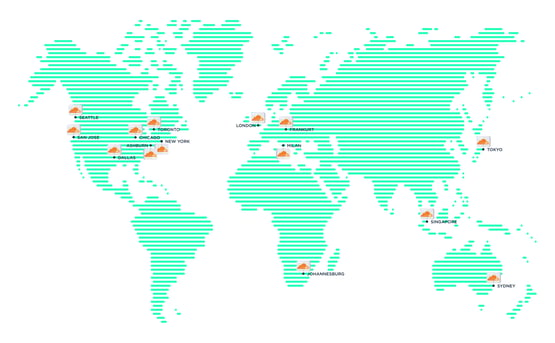 North America:
Ashburn
Chicago
Dallas
Miami
New York/Newark
San Jose/Silicon Valley
Seattle
Toronto
Europe:
Asia and Australia:
Africa:
We will be announcing more interconnect locations soon.
How can I sign up?
If you're looking for private connectivity to Cloudflare but you're not already a Console Connect user then register as a member now.