Multi-cloud trends in the healthcare sector
By Alex Hawkes|28 November, 2022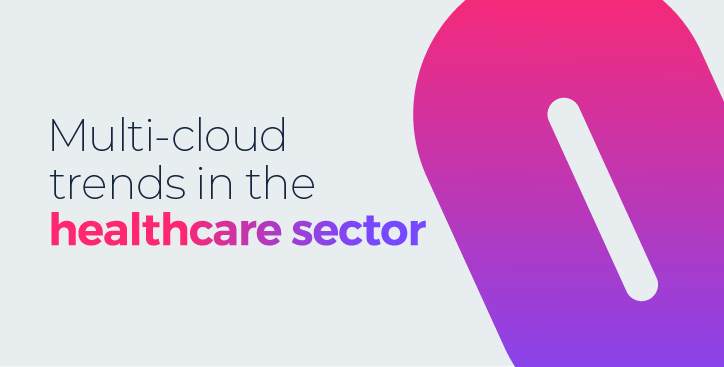 In the last few years, driven in no small part by the impact of the pandemic, cloud technology has had a profound effect on healthcare.

Despite being one of the last sectors to go all-in on public cloud, the maturity of offerings seems to be finally winning the industry over, opening up significant opportunities for telemedicine and virtual care to adapt to evolving patient and workforce needs.
In the early days of public cloud adoption, security was one of the biggest sticking points for take up in sectors like financial services and healthcare. These heavily regulated industries were slow to trust their sensitive data to 'someone else's computer'.
But the technology has since gained more than a foothold in most markets, and  Accenture research shows that up to 60% of healthcare CIOs and CISOs actually now recognise the public cloud as having security benefits rather than deficits, leading over 66% to adopt cloud services.
From an operational benefits perspective in healthcare, cloud can facilitate the development of applications focused on electronic medical records, mobile apps, patient portals, big data analytics, and even end-user devices through IoT - which is particularly beneficial for remote healthcare.

The cloud provides agility, scalability and flexibility, which can improve the entire decision-making process for healthcare providers and deliver better patient care. So, healthcare organisations that want to stay competitive are moving quickly to leverage the power of the cloud.
Transforming the healthcare ecosystem
The transformation of healthcare requires a transformation of the ecosystem. Healthcare providers already struggle with too many silos within healthcare information, and multi-cloud offers an open and collaborative approach to improving healthcare systems.

In fact, breaking down these silos is on the regulatory agenda. In the US, the Office of the National Coordinator for Health Information Technology Cures Act Final Rule, passed in 2016, requires that patients have secure access to their electronic health information and records.

Meanwhile, the Centers for Medicare and Medicaid Services Interoperability and Patient Access Rule of 2020 requires that health plans participating in federal exchanges share claims data with patients electronically.

For the sizeable US healthcare market, these developments have pushed data interoperability to the highest priority for healthcare providers. In a recent report, industry researcher GlobalData said that cloud interoperability can enable patient involvement by providing real-time access to lab reports, electronic health records, and prescription notes, meaning patients are likely to feel more empowered and engaged in their healthcare experience, leading to better health outcomes.

According to Joselia Carlos, Medical Devices Analyst at GlobalData: "Previously, patient data was spread over multiple databases and was only accessible to healthcare providers. By having patient data all in one place (i.e., the cloud), both patients and medical staff can access their files in a much quicker and easier way."
Multi-cloud is here to stay
Cloud services provider Nutanix, well known for its global Enterprise Cloud Index (ECI) survey has backed up the anecdotal trends with research showing that healthcare organisations appear to be in the early phases of cloud adoption. That adoption is expected to jump from 27% to 51% in the next three years however, in line with the global trend of multi-cloud infrastructure that spans a mix of private and public clouds.

This move will mark a significant shift away from a private cloud focused approach, although Nutanix's findings suggest the complexity of managing multiple clouds remains a major challenge, with 92% of healthcare providers requiring simpler management across multi-cloud infrastructures.

Joseph Wolfgram, Healthcare CTO at Nutanix, said: "Regardless of where they are in their multi-cloud journeys, evolution to a hybrid multi-cloud IT infrastructure that spans a mix of private and public clouds with interoperability is underway and necessary for healthcare organisations to succeed."
How multi-cloud is transforming healthcare
Security: The healthcare industry deals with heavy volumes of patient data records, health survey data, administrative data, and other sensitive data. To build confidence, cloud service providers have started recognising and promoting HIPAA compliance (Health Insurance Portability and Accountability Act) taking the burden off the healthcare providers.


Data interoperability: The cloud delivers interoperability with APIs (application programming interfaces) which can build strong and continued data interoperability in healthcare for faster insights to improve patient outcomes. This can break down silos and help avoid vendor lock-in.


AI for enhanced patient care: Cloud enables healthcare to scale up infrastructure to support patient care with reduced human intervention, such as using AI to analyse medical images to detect diseases early, or to streamline and automate the discharge process. Health First, a Central Florida health system, has reduced the length of stay by six hours per patient with AI-powered analytics. Microsoft Cloud for Healthcare recently added Missed Appointment Prediction, which uses AI to assess the likelihood of a patient missing their next appointment.


Telehealth and remote healthcare: Telehealth visits have skyrocketed globally since the pandemic, and doctors and patients now require more digital interfaces to monitor health. Providers in this space are delivering interoperability solutions for real-time live access to patients from any remote location and ensuring physician mobility. Patients, who have already had an in-person consultation, can access timely advice through a laptop or mobile device from a variety of health specialists, or for less serious concerns, have an entirely digital experience. For surgeons, real-time connectivity can enable remote assistance or in some cases, actual operations to take place using remotely controlled surgical equipment, allowing specialists to be in more places in a shorter time frame.
NaaS adds value to multi-cloud healthcare
The high dependence on secure, low-latency, high-reliability connectivity between different cloud environments is a highly relevant use case for adopting a Network-as-a-Service (NaaS) platform.

A NaaS platform, such as Console Connect, can increase the security and availability of a healthcare provider by giving real-time access to cloud services using a private dedicated connection.

Through these direct connections, an organisation has a more reliable and low-latency path to the cloud that avoids the public internet and delivers a more reliable and consistent network performance for those important applications and services.

It is an excellent fit for organisations with latency-sensitive use cases such as remote healthcare or surgery, or those requiring secure access to multiple assets.