Multi-cloud trends in the media sector
By Alex Hawkes|26 September, 2022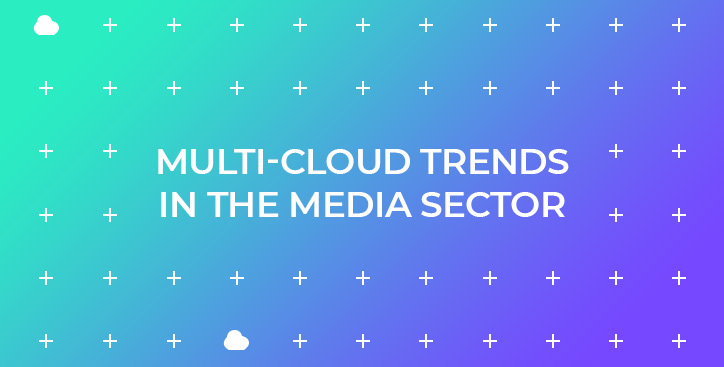 The cloud is helping organisations in the media and entertainment sector unlock new levels of efficiency and speed as they find themselves under pressure to produce and distribute content faster than ever before.

In our latest blog we look at how a Network-as-a-Service model can enhance their multi-cloud strategy.


Disruptors in the media space

The traditional economic model of TV production, which relied upon an attractive portfolio of 'live' broadcast events and a strong market for back catalogue content, has been well disrupted by hyper-concentrated viewing and the shift to on-demand consumption of media.

The days of the test card displayed on channels outside of broadcast hours are long gone and consumers expect access to extensive catalogues of media 24/7/365.

This has not only created significant opportunities for newer cloud-based media providers, such as Netflix, Hulu, and Amazon Prime, but has also disrupted the landscape for media production, as these same operators battle for market share based on availability of exclusive high-demand movies and series.

With production power no longer concentrated in the hands of a few established giants, the ecosystem is now composed of a network of smaller but highly specialised production houses and studios geographically spread around the globe.

Movie and television production is increasingly reliant on technology and as a sub-sector is well suited to the cloud. But the public cloud also makes sense for the distribution and delivery of content to the viewer bringing into focus the need for high-capacity, low-latency connectivity to get the job done.

Cloud adoption in media production

When it comes to creating blockbuster movies and award-winning TV shows, geographically dispersed studios and production houses require efficient collaboration - a trend that has only been accelerated during the pandemic.

Meanwhile, advances in cameras, such as 4k resolution, have resulted in very large video files, while extensive use of CGI and post production work requires lots of compute.

Multi-cloud solutions enable teams to work together using their preferred tools and environments when it comes to shared workspaces, editing, colour correcting, CGI and animation, and rendering.
Given the variety of requirements in the production process, having access to the different strengths of each cloud provider is essential - from large amounts of affordable storage, to vast processing power - the ability to move very large files around without delay or incurring significant cost is key.

This has created ideal use cases for Network-as-a-Service (NaaS) providers that enable production houses to do work within their local data centre before moving large files to a cloud-based render farm over a temporary high-throughput connection, before downloading the rendered asset days or even weeks later after the job has been done.
Cloud adoption in broadcast and delivery

A recent report from the International Trade Association for Broadcast & Media Technology (IABM) found that cloud adoption in broadcast and media continues to grow with most media businesses having adopted cloud technology.

The shift to remote production and the increasing volumes of data have contributed to accelerated cloud adoption, and despite the increasing complexity caused by expanding infrastructure, multi-cloud is an increasingly popular choice among organisations seeking to avoid being locked in to a single cloud service provider.

Benefits include the ability to work with multiple partners to deliver high-quality, low-latency video content using cloud-based networking, and compute infrastructure. Storage of the most valuable content by migrating content libraries into the cloud.

And the ability to process, transcode, and encode live and on-demand video assets quickly and securely.

Furthermore, today's consumers expect flexibility and choice in media and entertainment, and demand can be very spiky based on organic trends. This means media companies have to deal with surges in real time, something which the on-demand characteristics of cloud provide for very well.

With a NaaS architecture for connectivity, media providers can meet the unpredictable demands for delivery and distribution just as easily and efficiently as they can with their cloud instances.

Cloud adoption in audience engagement

Given the significant and growing investments in original content, media companies are increasingly relying on cloud-based data analytics and AI to better understand their audiences in real-time.

Petabytes of data can be warehoused and accessed quickly and efficiently in the cloud, with analytics run on live streams or to help understand content search and discovery and automatically enrich content with intelligence using machine learning capabilities.

This all depends on low-latency high-reliability connectivity between all the different cloud environments in use and is a highly relevant use case for NaaS connectivity.
NaaS adds value to media production and distribution

A NaaS platform can increase the throughput and availability of a media provider by giving real-time access to cloud services using a private dedicated connection.
Using a NaaS platform like Console Connect, organisations in the media sector can self-provision Layer 2 or Layer 3 network connections to all major cloud platform providers from over 120 cloud on-ramps worldwide.

This provides a more reliable and low-latency path to the cloud that avoids the public internet and delivers a more reliable and consistent network performance for those important applications and services.

It is an excellent fit for organisations with latency-sensitive workloads, or those requiring intermittent or unpredictable connectivity to the cloud such as media and broadcast providers.