Multi-cloud trends in transport and logistics
By Alex Hawkes|24 April, 2023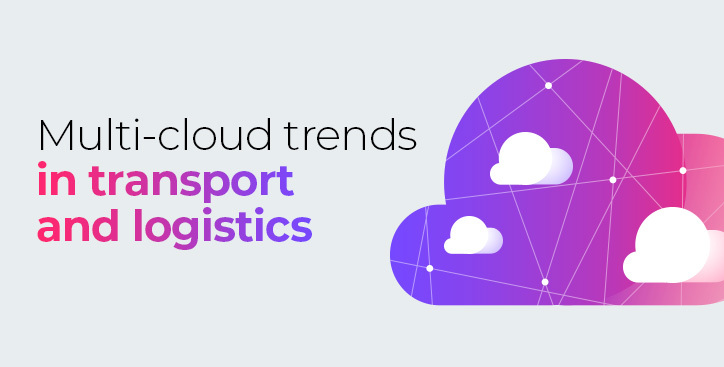 The transport, logistics, and supply chain sectors are laser focused on efficiency. The aim is to get the right thing to the right place at the right time, making best use of the available infrastructure, while a multitude of global and local factors attempt to eat into margins.

In the last 36 months, a litany of events have caused consistent supply chain issues, from Covid to grounded cargo ships, to industrial action to escalating fuel prices.

Each event has further highlighted inadequacies in rigid and outdated end-to-end fulfilment processes costing companies hundreds of millions of dollars.

These challenges have really only come to the fore since 2020, but in terms of more familiar challenges, shipping and transportation are by far the most expensive costs.

Warehouses are at capacity, and truck drivers are in short supply. Every delay has an impact further down the chain, and if the freight is a time sensitive supply of medicine or food, the financial risk is greater.

Knowing the exact location of your assets is critical to business success and multiple cloud computing platforms are increasingly making it easier to manage and respond to changing business needs.
Unpredictability in logistics
Retailers, wholesalers, and logistics operators have always had to deal with sharp increases in seasonal demand such as Christmas and Thanksgiving, as well as more recent mega-events like Black Friday.

But where these events were predictable, the unprecedented economic and environmental events including lockdowns due to Covid and subsequent explosion in remote workers, have introduced new unpredictable peaks in demand that require highly flexible warehousing and distribution arrangements and introduce several new variables to the logistics dataset.

EY research notes that European online grocery deliveries increased more in the first 10 weeks of lockdown in 2020 than in the previous 10 years.

This in turn prompted the appearance of more next-day and same-day urban delivery services, which in turn drove more demand for urban warehousing and effective upstream transport and logistics.

The explosion in start-up retailers and popularity of online shopping has seen high competition for warehouse capacity, but has also fragmented the ecosystem further, with established logistics and supply chain operators joined by new players including Fulfilled by Amazon (FBA), 3PLs (third party logistics) or integrated e-fulfilment providers, with limited IT integration between parties.
The transport and logistics IT ecosystem
With a complex ecosystem made up of multiple parties, fast data exchange between all actors is an important requisite for efficient management and execution of logistics processes.

But for a long time the industry has relied on manual workflows, spreadsheets, and human intervention, and has even seen big players forgo upgrades to digital infrastructure due to the perceived disruption it would cause, resulting in silos of critical information.

For the logistics industry, it's not just a case of adopting APIs to ensure different systems can talk to each other, there's also been a significant digital transformation process just to get data out of static storage - such as a spreadsheet, and into a format where it can be accessed at all.

Essential information to be communicated between parties includes: order confirmation, notification, delivery notes, and delivery planning, status messages, delivery documents and transport reports.

All of this information tends to exist within several different systems, increasing the complexity of supply chains and often resulting in the adoption of a multi-cloud strategy to bring all relevant data together, so key actors are able to receive notifications and alerts about shipment status changes in real time.


As well as senders and recipients, there are also hauliers and dispatchers to manage, communicate and document their transport orders, and separately, a container management system so every process partner has up-to-date data on inventory, both for full and empty containers and whether containers have special features such as temperature control.

Today, connected IoT modules can enable not just real-time global tracking of cargo but incorporate sensors capable of monitoring temperature and other environmental conditions for individual containers.

These connected units can relay information back to the managing company, creating supply chain intelligence, fulfilment optimisation, resilience, and agility to better respond to events, risks and opportunities.

One of the most game changing and challenging developments in the process of being solved by digital integration is Less-Than-Truckload (LTL) - a freight model in which a single truck's load contains products from multiple customers, all with their own delivery location, delivery deadline, pricing, footprint, pallet size, and transport requirements.

LTL solves the conundrum of rolling trucks with empty space by aggregating loads from multiple partners. But this requires deep integration of data from multiple sources operated by multiple providers.

The controlling software is generally known as a Transportation Management System (TMS) and may be built into a larger Enterprise Resource Planning (ERP) application.

Although many of the market leading applications can be deployed as on-prem or in the cloud instances from specialist providers, some of the more recognisable cloud names also have stakes in the game, including Oracle with its Oracle Transportation Management flagship product, and SAP with a holistic transportation solution that covers end-to-end business scenarios such as domestic and international inbound and outbound shipments.
Some specialist providers also make heavy use of data pooling infrastructure such as Google BigQuery and Google's API engine as well as multiple IoT components and AI and machine learning models.
An increasingly digital supply chain
In the last few years, the impact of supply chain disruption has been the same whether for pallets of wood, clothing, raw materials for microchips or mobile phones, or entire servers.

While the result has been companies turning to the cloud to get a more complete view of suppliers, inventories, warehouses, and location, using real-time dashboards, advanced analytics, and algorithms.

Alongside the main cloud ERP players, AWS, Microsoft Azure, and Google Cloud have all released products that help companies build a 'digital twin' - a representation of their physical supply chain that lives in the cloud to help companies model their entire supply chain, perform optimisations and test entirely new ways of working.

Retailers themselves are also adding to the mix. IKEA has been testing 3D printed on-demand home decor, shifting the entire concept of 'on-demand' further upstream from delivery to manufacturing.

In order to maximise these new opportunities, as well as take advantage of cutting edge technology such as IoT, the entire transport and logistics ecosystem is undergoing a digital overhaul.

Although there's no getting away from the core task of loading and unloading containers onto ships, trucks, and trains, it's increasingly clear that moving data from one location to another, quickly, reliably, and securely is the future of effective logistics.

This calls for connectivity into multiple different cloud and infrastructure providers, and a reliable network infrastructure to bring it all together, making the digital highway the road to the future.

Find out how CloudRouter® can help transport and logistics easily connect to and between public cloud providers.