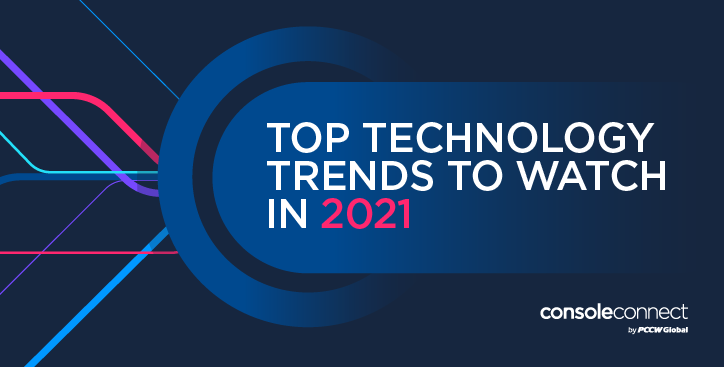 Top Technology Trends To Watch In 2021 (Part 2)
12 January, 2021 by Alex Hawkes
We recently took a look at some of the repercussions of the global pandemic and how it has caused a dramatic shift in the way we work.
In the second instalment of our predictions for 2021, we explore some of the longer term trends that will be top of mind for enterprises this year…
The security landscape continues to grow
In our previous blog, we covered the growing need for businesses to invest in the right tools for their virtual workforce. While the rapid adoption of collaboration tools and applications have enabled businesses to embrace new ways of working, the shift in the way we work has brought with it new headaches for network security professionals.

As businesses and consumers became more digitally dependent last year, cyberattacks continued to grow in size and sophistication. According to a report by NORDVPN, cyberattacks are up 400% a day compared to pre COVID-19 levels.
At the same time as understanding some of the new risks from remote working, enterprises are also balancing other network security concerns: how do they securely connect more IoT devices to their networks? How do they build a secure cloud environment?

"Security is an expanding area that enterprises will look to optimise in 2021," says Neil Templeton, VP of Digital Innovation Marketing at PCCW Global. "Remote working practices and the arrival of more connected devices are just a few of the reasons why transparency and visibility over your whole network is becoming more essential to enterprises."
Moving to the edge
Alongside security, enterprises will also be thinking about how to maximise opportunities with edge computing in 2021.

The events of 2020 accelerated the need to move data infrastructure and applications to the edge, where they can respond faster to business needs and increase flexibility. According to analyst firm IDC, 80% of edge-driven investments and business model changes in most industries up until 2023 will be driven by COVID-19's impact on the workforce and operational practices.

At the same time, demand for more edge locations will be driven by new workloads from technologies such as IoT and Machine Learning (ML), alongside traditional telco network functions that require service provisioning to be closer to the end user.

"As greater volumes of data are being shifted to the network edge, enterprises need more agility with their networks. Software Defined Interconnection® is providing enterprises with greater control and visibility over their network connections. Console Connect has also developed an IoT solution that can help enterprises manage their global IoT connectivity – all the way from edge to cloud," says Neil.
The rise of the interconnected enterprise
The pace of technological change is not just prompting businesses to innovate faster, it is also fundamentally reshaping enterprise business models.

Today's enterprises are reliant on a much wider ecosystem of partners and collaborators. With more of the value chain being handed over to partners, and each human in the workforce increasingly augmented by technology, companies are becoming smaller and more agile.

As they do so, business automation is becoming increasingly essential to organisations, which are seeing more of their critical decisions and transactions being made in real-time.
"We are seeing a move to a more interconnected business model, where enterprises are interdependent on a much larger pool of partners and suppliers. As a result, they are looking for greater speed, simplicity and agility with their interconnections," says Neil.
"We expect there to be more demand for point and click operating environments in 2021, enabling businesses to automatically call upon products and services via API."

Find out more in our exclusive 'Building Tomorrow's Interconnected Enterprise' report, which will be released later this month.