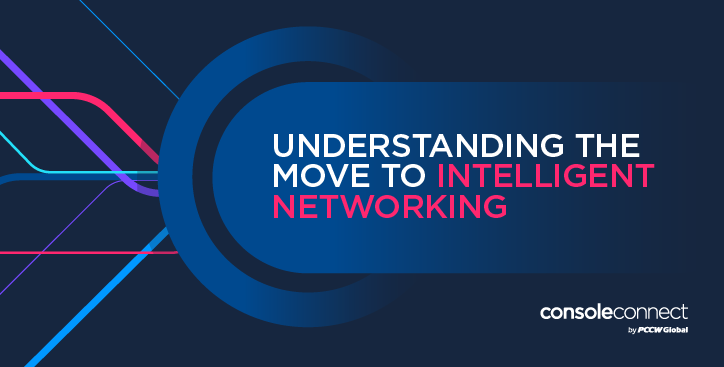 Understanding The Move To Intelligent Networking
24 May, 2021 by Alex Hawkes
More CIOs are seeing the value of network automation, which can improve network efficiency and cost, as well as help them manage increasingly complex IT environments. But like the adoption of any new technology, network automation presents a number of challenges and considerations for CIOs.
In our recent webinar, PCCW Global's CTO Paul Gampe and VP of Development and Operations Jay Turner shared some tips and insights into how to begin the move to intelligent networking…
Common drivers of network automation
As many businesses embrace digital transformation and adopt new technologies, such as cloud, IoT and AI, more of their processes and workflows are becoming automated. This automation journey is underpinned by network automation.
For many CIOs, their first encounter with network automation often comes as part of an overall cloud strategy. Once they've identified a public cloud offering that meets their requirements, thoughts quickly turn to the network.
"Network automation has traditionally taken place inside the data centre, and CIOs may already have experience with open flow and protocols to configure a single domain of network automation," says Paul.
"CIOs are now starting to think more about multi-domain and how to get their data into someone else's network. That is when platforms like Console Connect come in - as it can help get your data from on-prem to the cloud privately."
Increasingly, CIOs are looking for ways to avoid transferring sensitive data over the public internet. By using a private dedicated network to connect to their cloud provider, CIOs can navigate some of the pitfalls of the public internet and improve their overall network performance and security.
Another big driver for network automation is economic: "CIOs don't want to be paying for a service – say, for example, a direct connection with a cloud provider - that they are not using. Modern applications like Console Connect provide API endpoints that allow CIOs to script connectivity, which means they can script a backup from on-prem to the cloud, and then hit another API endpoint to terminate that connection," says Paul. "This is a good example of a modern orchestration service lifecycle."
The importance of APIs and API standards
APIs play an essential role in delivering end-to-end automation. When it comes to connectivity, APIs can create workflows that improve the efficiency of networks for CIOs and enable them to better cope with spikes in demand.
"APIs are wonderful and are at the core of any automation process. True on-demand service provisioning relies on automation that is publicly accessible via API," says Jay. "API standards are becoming more important, particularly at helping organisations avoid things like vendor lock-in. Having that flexibility and guarantee between different service providers is critical."
Behind-the-scenes, PCCW Global is working with industry standards bodies, such as Metro Ethernet Forum (MEF) and Communications Business Automation Network (CBAN), to advance network automation.
"MEF's LSO API is the leading light in terms of cross-carrier automation. We've had a number of engagements with other carriers to demonstrate and trial the first part of that lifecycle, which is focused on the quoting and ordering of network services. We've also had a number of proof of concepts looking at the provisioning piece. That work is progressing well," says Paul.
Moving forward, industry collaboration will be essential in improving interoperability and extending the ability to orchestrate across different networks.
Aligning your business with automation
Like other forms of automation, network automation can initially seem complex and involve many new workflows. PCCW Global has been on its own automation journey over the last few years - which not only includes automating its entire global network, but has also seen the company embrace network automation to drive efficiency across the organisation.
What advice can Paul and Jay share from this experience? "My first piece of advice would be organisational," says Paul. "The primary barrier to network orchestration is that you have network engineers who understand what needs to be done and developers who don't necessarily understand this, but do have the skillset to do it. Combining these organisational competencies is the quickest way to get things done in terms of network automation."
Automation must also be fully embraced throughout the rest of the organisation: "There is a steep learning curve with network automation. Many companies have legacy policies and technologies in place and don't want to make significant changes to the network that their business is reliant on. But understanding the benefits of this technology and having a roadmap that is communicated clearly across the organisation can help businesses embrace network automation," says Jay.