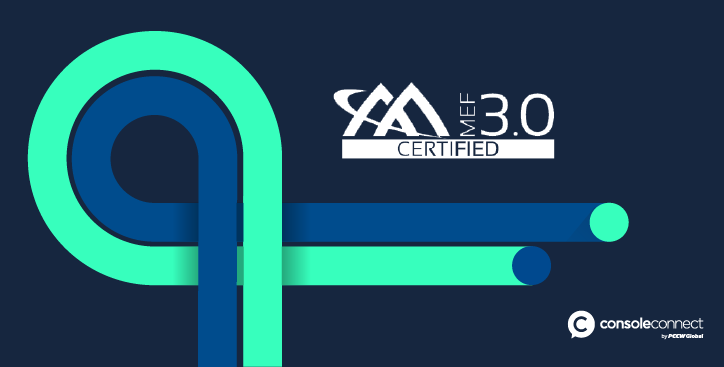 What is MEF 3.0 and why it matters
08 February, 2021 by Alex Hawkes
You may have spotted some news last week from PCCW Global that both its international network and the Console Connect digital platform have recently received MEF 3.0 certification.
Besides demonstrating to our customers and partners that Console Connect is aligned with the latest and highest network standards, this news also highlights the work that we are doing behind-the-scenes to help advance network automation and on-demand services globally.
Read more…
A brief background of MEF
MEF is a non-profit global industry consortium that was founded twenty years ago to support Carrier Ethernet networks and services. Bringing together like-minded carriers, service providers and vendors, the industry body helped define the services and standards for Carrier Ethernet – and ultimately played an important role in accelerating the global adoption of Carrier Ethernet.
Since then, the organisation has branched out into other areas of connectivity, such as optical transport and IP, as well as overlay services such as SD-WAN. More recently it has turned its attention to the modern enterprise's need for more agile, dynamic and automated connectivity services, which is where Console Connect comes in…
All you need to know about MEF 3.0
MEF 3.0 is a set of standards focused on accelerating the industry's transformation to dynamic services across a global federation of automated networks.
With many carriers and service providers currently operating as independent islands, these standards can help them evolve into a federation of cloud-like networks that support dynamic services and facilitate automated business-to-business interactions.
MEF 3.0 certification enables companies to validate that their services and technologies have met the highest levels of performance, assurance and agility established by the industry's defining authority for standardised network services. This includes:
Validation of performance excellence
Competitive differentiation
Faster RFI/RFP response and customer evaluation
Confidence boost for sales force
Quicker R&D for advanced services
Better internal coordination
Which MEF 3.0 standards have PCCW Global and Console Connect adopted?
PCCW Global's network has achieved MEF 3.0 Carrier Ethernet (CE) Service certification for Global Ethernet over MPLS services for both the company's Console Connect platform and its Switched Ethernet Services. The company is the first to receive global certification at 10G; the highest possible level that can be attained by MEF standards.
With this certification, PCCW Global is also the first provider in the world to implement all three services standards as defined by MEF:
Certified MEF 3.0 CE
Certified MEF 3.0 SD-WAN
LSO Sonata API implementation
In addition, PCCW Global has over 60 MEF 3.0 certified professionals, who help maintain and support the Console Connect and PCCW Global's services worldwide.
What does this mean for Console Connect users?
For Console Connect users, MEF 3.0 certification reaffirms the quality of the platform's underlying global network, which is already providing fast, secure and easy access to services all over the world.
But it also demonstrates Console Connect's longer term commitment to seamless interconnection and end-to-end automation. In order to achieve this, carrier and service providers must embrace an automated services environment and make it easier to extend the ability to orchestrate networks.
Wider adoption of the standardised Sonata APIs, for example, would benefit the ICT community as a whole and pave the way towards things like common information modelling and automating commercial settlements.
Ultimately, Console Connect is helping to build a world in which all network services will be consumed in real-time and on-demand.