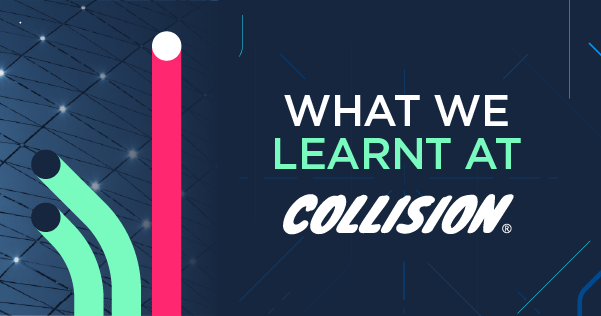 What We Learnt At Collision 2021
26 April, 2021 by Alex Hawkes
Last week, the Console Connect team participated at one of the world's largest virtual tech events. Bringing together 38,039 people from 141 countries, Collision 2021 was an opportunity for us to showcase Console Connect's network automation capabilities to the global tech community.
Some of the world's most famous entrepreneurs, founders, executives, sports stars, actors and world leaders spoke during the three day event, including David Beckham (in his role as goodwill ambassador for Unicef), Wikipedia CEO Katherine Maher and Twitter co-founder Biz Stone.
The pandemic meant that this was the second online edition of the 'Olympics of tech', which in usual circumstances would be hosted in Toronto, Canada. Inevitably, discussions throughout the event focused on the impact of the pandemic on the tech industry, as well as how technology can be better used to support social and economic recovery.
Remote and hybrid working
The rapid transition to remote working in the last year has proved that tech companies and start-ups are some of the most dynamic and flexible to change. In the 'Tech in 2021 and Beyond' session, BOX CEO Aaron Levie looked at how businesses could adopt "a remote and hybrid environment" post-pandemic, which will rely on effective sharing of information, ideas and content.
"What will happen as we move from being on video conferences and some people moving back to offices and working in a much more distributed environment, is you're going to care much more about managing the information that will be created and turning it into [something of value]," he said.
Cloud will also play a pivotal role in this new remote and hybrid working model: "It's really the early times of cloud and how people will work in the cloud and where the whole space is going,'' Levie added.
Start-up agility leads the way
The pandemic has caused huge disruption to many industries, while throwing others onto the front line. At the start of the pandemic, many non-medical start-ups worldwide were able to respond quickly to the fight against COVID-19 by pivoting their businesses to make protective equipment, hand sanitiser or telehealth solutions.
At this year's Collision, there were many talks focused on the role that medtech can play in society and also how it can also prepare the world for future pandemic. Examples of innovative medtech start-ups at the event included an Ethiopian start-up that offers healthcare software to automate hospital management, as well as a UK-based medtech company that is developing a neural interface using AI that can decode signals between the brain and the body.
With cryptocurrencies and the Gamestop scandal dominating media headlines this year, it was no surprise to see heavy participation from fintech start-ups at this year's event. Among those in attendance were a Brazilian fintech providing open banking services for companies outside of Latin America, and a Nigerian fintech that combines online and offline tools to give brands competitive and actionable insights on the African market.
The eventual winner of the 2021 Collision's Pitch Start-up competition, however, had an entirely different focus. Many relationships have been put to the test during lockdown, and Couply was selected from hundreds of startups for its free app that helps reduce friction in relationships by improving couples' communication ability. The app's features include a quiz that tests the combination of two individuals' personalities, as well as curated gift and date ideas based on the couple's history and selected profile interests.
A masterclass in Console Connect
Throughout the three days of Collision, the Console Connect team was on-hand to talk to start-ups and tech companies about their networking needs. Being cloud native gives start-ups the ability to innovate and embrace new technologies and services at speed.

During our masterclass at Collision, Console Connect's Neil Templeton, Louis Richards and Jay Turner explained how our Software Defined Interconnection® platform is a great tool for start-ups to manage and scale their connectivity to the cloud.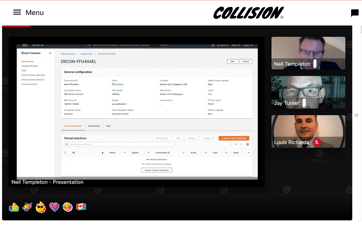 During the masterclass, we demonstrated how a start-up or tech company can create a direct connection to AWS in just a few simple steps using Console Connect. The platform provides users with the ability to provision dedicated and reliable connectivity to all hyperscale cloud providers for as little or as long as they need.

"Console Connect provides an easier, quicker and more flexible way for start-ups to connect to the cloud. The platform provides them with PAYG access to a high performance network that can help them move large volumes of data without committing to a long-term contract," says Neil Templeton, VP of Marketing at Console Connect.