What's new with Google Cloud in 2023
By Alex Hawkes|6 February, 2023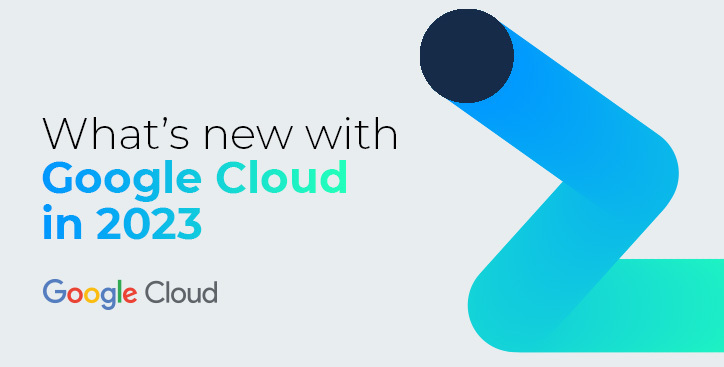 Google Cloud, as it's now known - it dropped the 'Platform' in recent months - is the number three market leader, offering hosting on the same supporting infrastructure that Google uses internally for products like Google Search and YouTube.
The company leverages this approach with a focus on developer-friendly products to build complex applications, and has made significant investments in multi-cloud, AI/ML (Artificial Intelligence and Machine Learning), analytics, and sustainable infrastructure.
Because of its positioning, Google is more focused on data portability and helping its customers avoid vendor lock-in by ensuring its applications, platforms, and infrastructure play nicely across the ecosystem, with 35 regions and 106 zones currently in operation around the world.
Towards the end of 2022, Google Cloud championed some 800 software companies building their products and businesses with Data Cloud, an approach that helps customers utilise all their data, from all sources, in all storage formats, across all cloud providers and platforms.
An accessible data cloud
Google notes that many of the 800 companies mentioned are fast-growing startups creating entirely new products with technologies like AI, ML and data analytics.
To support these businesses, Google is deploying updates to build "the most open and extensible Data Cloud", including:
Capabilities to analyse unstructured and streaming data in BigQuery.
Support for major data formats including Apache Iceberg, Linux Foundation Delta Lake, and Apache Hudi.
Integrating BigQuery for Apache Spark.
Expanding Dataplex capabilities to include automated data quality and data lineage to give users greater confidence in their data.
Unifying Google's business intelligence portfolio under the Looker umbrella and beginning a deep integration of Looker, Data Studio, and core Google technologies like AI and ML.
Launching Vertex AI Vision, a service that can open up computer vision and image recognition AI to more users.
Deeper integrations with popular enterprise data platforms, including Collibra, Elastic, MongoDB, Palantir Foundry, and ServiceNow to help prevent data lock-in.
Digital transformation, security, and financial services
As with all the cloud providers, Google continues to focus on the benefits of digital transformation and helping companies and sectors deploy cloud infrastructure to drag their tech stack out of the dark ages.
Financial services are one of the biggest laggards, and with good reason. This sector has a heavy reliance on bespoke on premises infrastructure and while reservations on security and reliability have been widely addressed in recent years, continues to proceed with caution.
At the start of 2023, Zac Maufe, Financial Services Industry Solutions, at Google Cloud, said adopting cloud computing technologies presents financial services institutions with opportunities to address many forms of security risks in new, innovative, and more effective ways.
He referenced research from KPMG and Accenture, which found that 44% of global banking CEOs are looking to invest in secure and resilient cloud tech to build resilience, while 41 per cent of banking execs said security is the most important success factor in the cloud journey.
Towards the end of 2022, Google announced the completion of its acquisition of Mandiant, a dynamic cyber defence, threat intelligence and incident response services provider.
Mandiant is known for delivering frontline expertise and threat intelligence, and is a proven first responder with teams spread across 22 countries. With this acquisition, Google Cloud said it will leverage Mandiant to deliver an end-to-end security operations suite with even greater capabilities to support customers across their cloud and on-premise environments.
Retail focus
Another big focus sector for Google is retail, kicking off the year at the NRF 2023 retail industry's largest event, with four new and updated AI technologies to help retailers transform their in-store shelf checking processes and enhance their ecommerce sites with more fluid and natural online shopping experiences.
Making reference to its data cloud once again, Google touted a new shelf checking AI solution built on Vertex AI Vision, which plugs into Google's database of facts about people, places and things, and gives retailers the ability to recognise billions of products to ensure in-store shelves are well-stocked.
For online shoppers, Google updated its Discovery AI solutions with new personalisation capabilities to help retailers upgrade their digital storefronts with more dynamic and intuitive shopping experiences; while its Recommendations AI dynamically optimises product recommendations.
"Despite uncertainty, the retail industry has enormous opportunity. The leaders of tomorrow will be those who address today's most pressing in-store and online challenges with the newest technology tools, such as artificial intelligence and machine learning," said Carrie Tharp, VP of Retail and Consumer, Google Cloud.
Middle East expansion
The Middle East continues to be more downturn resistant than much of the western world, prompting continued investment, and cloud is no different. To meet growing demand for Google has announced plans to bring a new Google Cloud region to Kuwait in 2023.
The expansion will deliver high-performance services that make it easier for local organisations to serve their own users faster, more reliably and securely, such as existing customers like the Government of Kuwait and Alshaya Group, which will benefit from lower latency.
The forthcoming Kuwait cloud region follows previous announcements to bring Google Cloud regions to Doha and Dammam.
"Through our strategic partnership with Google Cloud, the State of Kuwait will continue to make great strides towards digital transformation, a main pillar of our New Kuwait vision (Kuwait 2035). Our alliance with Google Cloud will have significant benefits for Kuwait and will provide a major boost to achieving the country's socio-economic priorities, including promoting efficiencies in government, enhancing healthcare and education, and diversifying the economy", said H.E. Mr. Mazin Saad Alnahedh, Minister of Commerce and Industry and Minister of State for Communications and Information Technology Affairs.
Cloud costs to watch out for
We've recently run several articles on understanding and optimising for cloud costs and one of the interesting posts to come out of Google recently was on the 'top 25 questions asked in 2022'.
Most of the questions are discovery level probes into 'what cloud is', but one of the more insightful ones prompted a useful response on an easily overlooked cost - unused resources attached to terminated cloud services.
"Does Google Cloud charge for stopped instances?" was the question, and the response was clear to state that while "Virtual Machines (VMs) in the TERMINATED state are not charged for per-second usage and do not count toward your regional CPU quota", any resources attached to the VM, such as persistent disks and external IP addresses, "are charged until they are deleted."
While there is a genuine use case to stop VMs that you're not using, saving you from being charged for VMs that aren't active, and you intend to restart those VMs again, with the same VM properties, metadata, and resources, it's easy to see how they can be overlooked when permanently terminating services, because to stop being charged for attached resources, you need to reconfigure a stopped VM to detach those resources, and then delete the resources.
We will continue to look at the leading cloud services and what they promise for 2023, and link to their own specific materials. For those evaluating cloud services, here is Google's own comparison guide for Google Cloud, Amazon AWS, and Microsoft Azure.