What's new with Microsoft Azure for 2023
By Alex Hawkes|20 February, 2023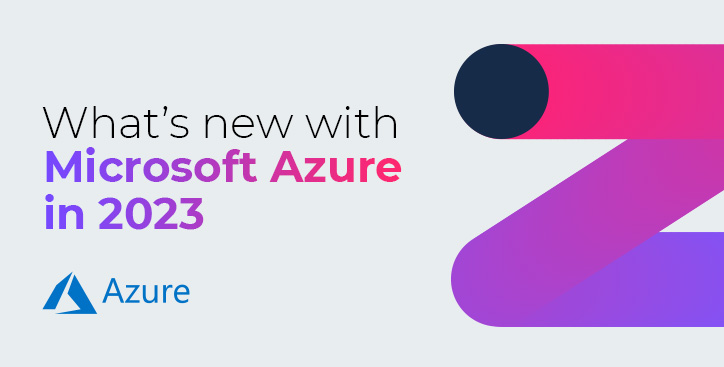 Microsoft, like Amazon and Google, is experiencing slowing growth in its cloud operation, Azure, with analysts at UBS noting that the cloud business may be maturing as the economy struggles, curtailing the hockey stick curve of previous years.
Still, Azure remains a strong number two in the cloud service provider rankings and has managed to dominate the headlines of late through its relationship with ground-breaking AI startup OpenAI, known as the artificial brain behind the ChatGPT natural language model, DALL-E2 image generator, and GitHub Copilot automated coding tool.c

The first two have become staple references on social media, as consumers and businesses alike test the creativity of these services.
Democratising AI
ChatGPT has taken the world by storm, with developers using it to sense-check their code, and other workers asking it for help with spreadsheet formulas, or even writing articles like this.
With a relationship going back to 2019, Microsoft is now looking to invest even more in OpenAI - to the tune of $10bn by some accounts - including a multibillion-dollar investment in specialised supercomputing infrastructure to support OpenAI and incorporate the technology into its own offerings. Rumours suggest this could include deployment of OpenAI's models in the Bing search engine.
For Azure business customers though, Microsoft recently announced the availability of the Azure OpenAI Service to large, advanced AI models with added enterprise benefits.
With Azure OpenAI Service now generally available, businesses can apply for access to the advanced AI models —including GPT-3.5, Codex, and DALL•E 2— on Azure infrastructure, to create their own cutting-edge applications.
IoT for supply chain optimisation
If Microsoft's intentions with AI pit it against Google, then its designs on the supply chain see it going toe-to-toe with Amazon.
Volatility in the retail market is forcing businesses to re-evaluate how they address key challenges and Microsoft is working with a range of Microsoft Cloud partners to help retail customers get more insights out of their data using Microsoft Azure coupled with edge technologies, IoT, and AI, to not only help manage daily operations, but also create more efficient, agile, and sustainable retail stores and supply chains.
In 2023, the company is focusing on helping customers address key retail challenges with Azure-optimised solutions:
Inventory optimisation: From manufacturing to store front, retailers need to have the right products in stock and on the shelves at the right time.
Customer experience: Click-happy customers expect more from the in-store experience than they did just a few years ago, with technology delivering convenient and seamless interactions.
Empowered workers: Retailers need to empower frontline workers both in the store and in the supply chain network, with the right data and tools to make the right decisions at the right time.
Loss prevention: Managing and reducing theft, and supply chain losses.
Although data can solve these challenges, in the retail world it is often stuck in legacy systems, with Microsoft pushing Azure as a way of unlocking more potential from your data.
Furthermore, in the broader IoT sector, Gartner recently placed Microsoft in the coveted top right spot in its Magic Quadrant for Global Industrial IoT Platforms report.

A key part of Microsoft's solid IoT offering is Azure IoT Central, which spans management and analytics of IoT deployments from a single dashboard - like an IoT solution in a box, that abstracts Azure's PaaS capabilities so customers can go to market faster.


A security sentinel for DDoS protection
The security conversation is never far away when discussing cloud and the main providers are always looking to boost their credentials in this area.

In February, Microsoft announced a new Azure DDoS Protection Solution for Microsoft Sentinel, enabling customers to identify bad actors from Azure's DDoS security signals and block possible new attack vectors in other security products, such as Azure Firewall.

The Azure security portfolio includes several network security tools, including Azure DDoS Protection, Azure Firewall, and Azure Web Application Firewall (WAF), which can be deployed and configured separately to enhance security posture and detect and block multi-vector attacks.

The Sentinel solution automates the attack response to DDoS attacks, which are most well known for their ability to take down applications and websites by overwhelming servers and infrastructure with large amounts of traffic.
Deploying a European data boundary
Governance often goes hand in hand with security, and since the start of this year, Microsoft has begun a phased roll out of its EU Data Boundary to public sector and commercial customers in the European Union (EU) and the European Free Trade Association (EFTA).


Azure users have the ability to store and process their customer data within the EU Data Boundary for Microsoft 365, Azure, Power Platform and Dynamics 365 services, expanding on existing local storage and processing commitments to significantly reduce data flows out of Europe.

In coming phases Microsoft will expand the EU Data Boundary solution to include the storage and processing of additional categories of personal data, including data provided when receiving technical support, according to Julie Brill, Corporate Vice President and Chief Privacy Officer, Privacy and Regulatory Affairs.

Although Microsoft's cloud services already comply with or exceed EU requirements, the EU Data Boundary will further enable public sector and commercial customers in the EU and the EFTA to have their data processed and stored within the region.
Expanding into Saudi Arabia
Microsoft already claims 60+ regions for Azure and expansion continues apace.

Microsoft's latest update includes plans to establish a new data centre region in Saudi Arabia (Saudi Arabia Central). This will offer organisations in Saudi Arabia local data residency and faster access to the cloud, delivering advanced data security and cloud solutions.

The new data centre region in Saudi Arabia will also include Availability Zones, providing customers with high availability and additional tolerance to data centre failures in the fast growing regional tech sector.

Microsoft Azure's latest pricing information can be found here.