Why should I consider Salesforce Express Connect?
By Alex Hawkes|14 August, 2023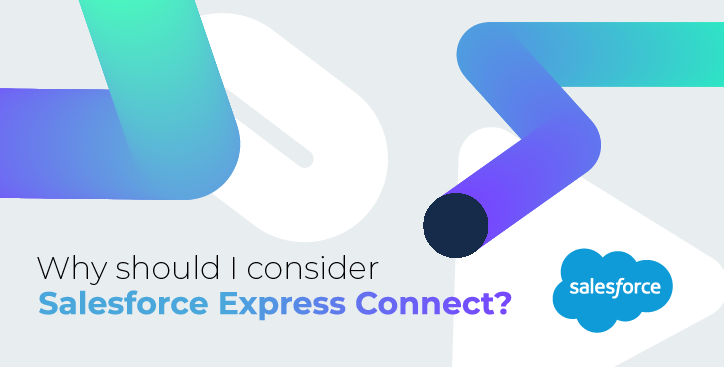 In this blog, we look at why more businesses are considering Salesforce Express Connect for accessing their Salesforce applications – and how Console Connect can help.
Salesforce needs little introduction. It has become the CRM of choice for enterprises, now counting 150,000 customers across various industries, including the likes of Spotify, Amazon Web Services, and U.S. Bank.
As of 2022, the biggest presence for Salesforce as a SaaS solution is in the professional services industry, with lawyers, consultants, advertising professionals, architects, and accountants making up nearly 30% of the customer base. Meanwhile, manufacturing, financial services and banking, and retail make up between 9% and 12% each.
Why more businesses are relying on Salesforce
One of the key reasons Salesforce has such a strong hold in different markets is due to its range of ready-made solutions specifically tailored to the needs of different industries - otherwise known as its 12 industry clouds:
Consumer Goods
Media
Retail
Energy & Utilities
Financial Services
Public Sector
Travel & Hospitality
Education
Healthcare & Life Sciences
Nonprofit
Manufacturing
Communications
Additionally, the company benefits from a healthy ecosystem of system integrators and management consultants.
In fact, research analyst IDC forecasts that the use of cloud services of Salesforce and its ecosystem will create new revenues for customers that will add up to $1.56 trillion worldwide by 2026. This revenue will lead to the creation of 9.3 million new jobs, including 3.8 million direct jobs and 5.5 million indirect jobs over the same time period.
What are the main benefits of Salesforce?
The key benefits of Salesforce adoption are:
Improved customer experience – 30%
Operational improvements – 25%
Better employee productivity – 23%
Faster research and development (R&D) and product development – 22%
Furthermore, according to research from IDC, the average Salesforce customer reported project payback in just one year and 58% reported payback in less than a year.
Continued innovations
Salesforce continues to innovate. In March 2023 the company unveiled Einstein GPT, which creates personalised content across every Salesforce cloud with generative AI, making every employee more productive and every customer experience better.
For example, Einstein GPT can generate personalised emails for salespeople to send to customers, generate specific responses for customer service professionals to more quickly answer customer questions, generate targeted content for marketers to increase campaign response rates, and auto-generate code for developers.
Einstein GPT can connect to OpenAI's advanced AI models out of the box, or be plugged int
o any other external model and use natural-language prompts directly within the CRM to generate content that continuously adapts to changing customer information and needs in real time.
Make the most of these innovations with Salesforce Express Connect
But making the most of your Salesforce instance, and the innovations it brings, means having fast, reliable connectivity to your Salesforce data and services.
Salesforce Express Connect (SEC) delivers more cost-effective connectivity with higher throughput and lower latency on a dedicated connection.
As a trusted Salesforce Express Connect partner, Console Connect provides direct, private and on-demand connections to Salesforce leveraging our global network infrastructure.
Via our management portal or API, your business can quickly establish private network connectivity between your data centre and office locations and the Salesforce platform – and provision, manage and monitor those connections in real-time.
Five ways Console Connect and Salesforce Express Connect can improve your enterprise network
Boost network performance and increase application reliability with a dedicated connection
Simplify your end-to-end network management with real-time connectivity monitoring
Expand your infrastructure options with network partners such as Console Connect offering our own pricing, capacity, and SLAs
Salesforce Express Connect helps meet industry regulatory and compliance demands
Build Layer 3 virtual networks between Salesforce and your different clouds, applications, enterprise locations, data centres and other network endpoints
Console Connect currently offers interconnections to Saleforce.com locations in the US, UK and Japan. Find out more.