Why Should My Business Consider Private And Direct Connections To Huawei Cloud?
By Alex Hawkes|2 August, 2021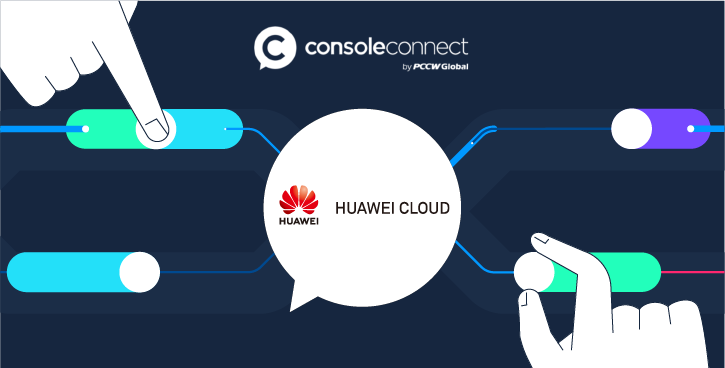 The rapid growth of China's public cloud market and the increased spend on cloud services has seen Huawei Cloud become an increasingly popular option for enterprises. Here we look at some of the advantages of using private connections between Huawei Cloud data centres and your on-premise or colocation environment.
Why businesses choose Huawei Cloud
China's cloud provider landscape is dominated by a handful of local giants, including Alibaba, Huawei and Tencent.
According to a Gartner report published in June 2021, Huawei Cloud claims second place in China with over 16% of the Infrastructure-as-a-Service (IaaS) market. The company also claims to have made strong headway in the global market, with just over 4% IaaS market share, where it closely trails Google Cloud Platform.
Huawei is on something of a roll after its second consecutive year of over 200% growth in the IaaS market. Over 90% of this revenue comes from Greater China, a region that continues to see rapid cloud market growth and gives credence to the company's pivot away from selling equipment to investing heavily in services.
The rapid growth of China's public cloud market and Huawei's prospects is partly due to the Covid-19 pandemic, as enterprises and government departments have shifted more of their operations online and increased spending on cloud services.
By December 2020, Huawei Cloud had launched more than 220 cloud services and 210 solutions, on-boarded more than 20,000 partners, attracted 1.8 million developers, and launched more than 4,000 applications.
Huawei helped establish the Cloud Native Computing Foundation (CNCF) in 2015, and is the only founding member and the first platinum member of CNCF from China. The company also contributed the first cloud-native edge compute system, KubeEdge, and the cloud-native batch compute solution Volcano.
To optimise the performance of cluster servers, Huawei released its own container offload technology called the QingTian architecture, which aims to provide developers with efficient, agile, and open cloud-native infrastructure, delivered through the distributed cloud to wherever needed. The company claims the high-performance processing capability of the QingTian architecture improves the overall cluster performance by 40% and reduces the resource cost by 30%.
Although Huawei Cloud's a portfolio of compute and storage offerings are primarily aimed at the Chinese market, the company is making headway as a global contender and is a valuable partner for those seeking access to China.
Whether your organisation has adopted a hybrid or multi-cloud approach, PCCW Global's SDN-powered Console Connect platform can provide real time access to the Huawei Cloud from enterprise locations around the world, as well as interconnect your Huawei Cloud instance with your existing data centres and other clouds.
What is Huawei Cloud interconnect?
In Huawei Cloud's documentation, Direct Connect (DC) enables you to establish a private connection between Huawei Cloud and your enterprise infrastructure. Direct Connect establishes a high-speed, low-latency, stable, and secure dedicated network connection that links your environment to Huawei Cloud.
The nature of a direct connection makes it highly effective for latency-sensitive applications, as well as for organisations that need to shift large amounts of data. In many cases, using DC can provide greater throughput at lower network costs.
For hybrid cloud operations, you can connect to one or more VPCs from a location that is closer to your premises to ensure that you can access cloud resources at the quickest speed possible.
Outside China, Huawei has launched cloud data centres in South Africa, Singapore, Chile, Brazil, Mexico, and Peru, working with partners to provide services in 45 availability zones across 23 regions worldwide.
Advantages of using direct connections to Huawei Cloud
Use Huawei Cloud Direct Connect via Console Connect to create private connections between Huawei Cloud data centres and infrastructure on your premises or in a colocation environment.
Direct Connect is a great option for businesses that are seeking secure, ultra-low latency connectivity into Huawei Cloud for workloads which require more speed or less latency than a regular Internet connection can provide.
Up to 10Gbps bandwidth is dedicated exclusively to your business, helping your business grow for the future - and you can also use Direct Connect to connect to VPCs in the cloud.

How to connect to Huawei Cloud using Console Connect
To use Huawei Cloud DC, Console Connect provides an easy, elastic and economical way to create a dedicated and private connection with higher bandwidth options and a more reliable and consistent networking experience.
As an interface to the global network of PCCW Global, Console Connect's intuitive management portal enables you to easily create a circuit to Huawei Cloud and provision redundant Layer 2 connections.
Console Connect users can currently connect directly to the following Huawei Cloud regions: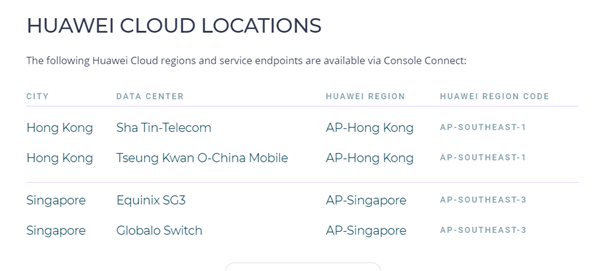 Benefits of using the Console Connect platform for Huawei Cloud DC include:
Reduced complexity: A self-service portal with an intuitive UI. Manage your Huawei Cloud access 24/7 from anywhere in the world.
Greater flexibility

: No more long lead times and restrictive contracts. Connect from 1 day to 3 years and only pay for what you need. Dial your cloud connection bandwidth up and down as required.

Improved performance:

Private connectivity to Huawei Cloud that bypasses the public internet, providing a better user experience and improves efficiency and performance.

On-demand:

Truly automated, multi-cloud business connectivity platform that combines software and network architectures. Fast and secure direct connectivity to your Huawei Cloud as and when you need it.

API enabled network:

Enables integration with your own or your partner's existing ecosystems and infrastructures.

Global reach:

Leverage PCCW Global's leading MPLS network and connect directly to 450 data centres in over 50 countries worldwide, or access our global ecosystem of SaaS providers, IoT partners and cloud providers.

Visibility & monitoring

: Easily monitor your Huawei Cloud connection performance. View bandwidth allocation and utilisation.

Uptime of 99.999%:

Ensure your business critical applications stay running regardless of public internet performance.