Why Should My Business Consider Private And Direct Connections To IBM Cloud?
By Alex Hawkes|3 May, 2021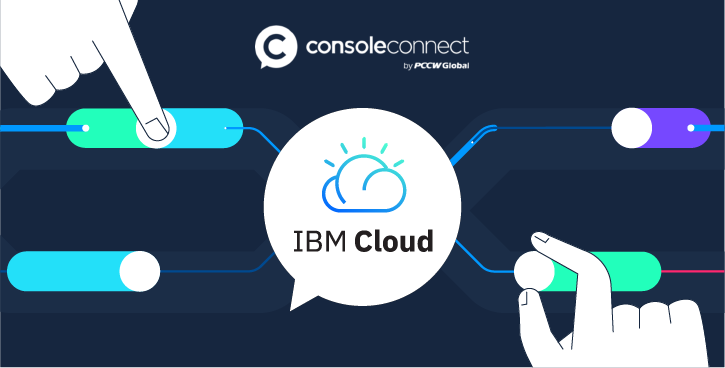 A combination of Console Connect and IBM Cloud Direct Link can help enterprises better support and manage their hybrid workloads, while also improving overall network performance and speed. Here's how…
Why businesses choose IBM Cloud
Largely considered a strong number four in the public cloud market, IBM Cloud offers both Platform-as-a-Service (PaaS) and Infrastructure-as-a-Service (IaaS) alongside an ecosystem that includes all the Software-as-a-Service (SaaS) usual suspects.
The company has a strong following among large enterprise IT users due to its long history in business computing and partnerships with key software platforms such as VMware. It's acquisition of Red Hat makes it a serious contender in the hybrid cloud landscape and IBM Cloud is also pushing hard in the data science space with its Watson platform.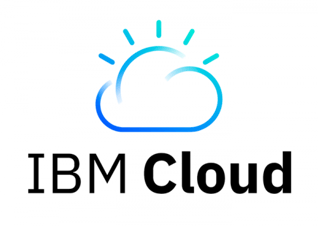 In its own words IBM Cloud is focused on delivering market-leading security, enterprise scalability and open innovation for increased agility and continuity and claims to be in use by 47 of the Fortune 50 companies, all 10 of the 10 largest banks globally, and eight of the 10 largest airlines.
While some providers focused very much on public cloud, IBM has remained resolute about its hybrid ambitions and as time goes by it's looking like this could have been a savvy move.
The once popular vision of enterprises adopting a 'cloud only' strategy is being increasingly debunked as it seems inconceivable that any business can shift everything to the public cloud. This seems to be increasingly true for any organisation that has legacy infrastructure, especially those with private data centres.
For IBM Cloud, the foundation for this approach is Red Hat OpenShift, one of the market's leading hybrid cloud container platforms. With Red Hat OpenShift, enterprises can develop and consume cloud services anywhere and from any cloud through a common platform, allowing engineers to skill once, build once and manage all from a single pane of glass.
Capitalising on its strong enterprise presence, IBM Cloud is deeply integrated with a number of widely adopted business software applications and platforms for heavy-duty computing. This includes IBM Cloud Pak solutions, an AI-enhanced software portfolio that runs on Red Hat OpenShift.
IBM and VMware have also deepened their decade-long alliance by becoming strategic go-to-market partners, including deep integration with IBM Watson for natural language processing, visual recognition and machine learning.
These hybrid cloud solutions can help organisations advance digital transformation with data insights, prediction, security, automation and modernisation, across any cloud environment.
What is IBM Cloud interconnect?
In the parlance of IBM's own cloud offering, the direct interconnect service is known as IBM Cloud Direct Link. The IBM Cloud Direct Link Service Provider Program allows IBM clients to select from a growing ecosystem of local and global providers - including Console Connect by PCCW Global — to create the private connections to IBM Cloud that best suit their applications' needs.
With dedicated interconnects to IBM Cloud Direct Link, enterprise customers have greater choice to select the most appropriate speed of service, location and deployment model to create a secure, highly available hybrid connection for their workloads.
In 2020, Console Connect expanded its collaboration with IBM Cloud Direct Link to improve network connections to the IBM public cloud from data centres across Asia, Europe and the Americas.
Michael Glynn, Console Connect's VP of Digital Automated Innovation, says: "Extending our on-ramp footprint means more global businesses are now able to take advantage of the improved speed, security and network scalability for their critical business applications hosted in IBM public cloud.
Console Connect customers can now instantly provision virtual connections directly into IBM's public cloud for short durations from any of the 400 plus on-net data centres in 50 countries, including direct cloud on-ramps to the IBM public cloud in a growing number of locations worldwide (see map below).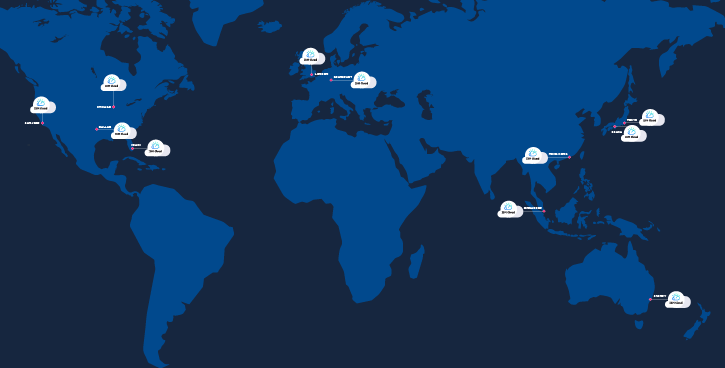 Advantages of using dedicated connections to IBM Cloud
Whether your organisation has adopted a hybrid or multi-cloud approach, PCCW Global's automated Console Connect platform can provide real-time access to the IBM Cloud from enterprise locations around the world, as well as interconnect your IBM Cloud instance with your existing data centres and other clouds.

The benefits of using dedicated connectivity to IBM Cloud Direct Link, include:
Better support for hybrid workloads: IBM Cloud Direct Link enables customers to create private connections between their remote network environments, such as private data centres, and their IBM Cloud deployments to better support hybrid workloads.
Global reach with industry-leading partners: Leveraging IBM's Service Provider Program, Console Connect can create secure, hybrid connections for your workloads from all corners of the globe, with easy management from a single console.


Flexible pricing options: From 50Mbps to 10Gbps, multiple port speeds are available at predictable pricing models that fit every budget, from small business to enterprise-scale organisations, and enable businesses to match their network connectivity to the scalability and flexibility of the cloud.
How to connect to IBM Cloud using Console Connect
Maximise the potential of your IBM Cloud instance with PCCW Global's Console Connect platform. Get real-time access to low-latency and secure direct connectivity from the PCCW Global Tier 1 IP network, which spans more than 150 countries around the globe.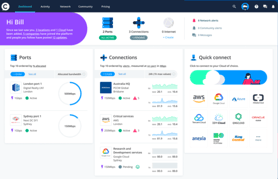 When you have an active Console Connect port and am IBM Cloud account, you can generate direct and private layer 2 connections to IBM Cloud through the Console Connect platform in just a few clicks - then adjust bandwidth up or down, track utilisation and visualise connection performance.
Console Connect allows you to create high quality connectivity to IBM Cloud in a way that matches the flexible nature of the cloud.