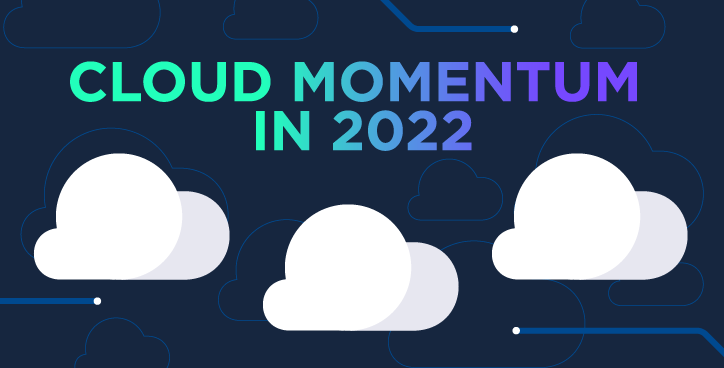 3 Areas Of Cloud Momentum For 2022
13 December, 2021 by Alex Hawkes
As 2021 draws to a close and all the industry commentators make their predictions for the coming year - the continued and dizzying growth of cloud services is high on the agenda.
In this blog, we take a deeper look at how businesses are utilising the cloud and what impact this is having on global IT spend…
The Covid 'blip' in cloud growth
The last 12 months or so have been a bit of a blip that has seen the major cloud providers return to crazy quarterly growth after several quarters of the strong but slowing growth you would expect from a maturing market.
AWS, for example, reported a quarterly jump of 39% in Q3 and is now on track for a $60bn annual run rate, cementing its position as the biggest, fastest growing company ever.
This return to stellar growth, not just for Amazon but for Microsoft Azure, Google Cloud, and all the other usual cloud suspects, has come about in consequence to the pandemic, which has forced businesses online to evolve and survive.
At the start of 2021, Microsoft CEO, Satya Nadella, said "The COVID-19 pandemic has accelerated the digitisation process by at least a decade". This phenomenon has persisted throughout the year and benefitted all cloud players across the spectrum.
Looking backward, data from Synergy Research indicates that the entire cloud ecosystem grew 25% in the first half this year to $235bn, across the three 'as-a-service' pillars - Infrastructure, Platform, and Software.
Looking forward, Gartner predicts global public cloud spending to grow at a rate of 21.7% to reach $482bn in 2022, up from $396 billion this year, with the as-a-service elements driving that growth.
So, whether or not the accelerated growth blip continues, the market remains on strong form.
This is still just the beginning for cloud…
The real evolution, however, is taking place in just what the cloud is being used for. In late November, during his first AWS re:Invent keynote in the role as AWS CEO, Adam Selipsky reminded us that cloud adoption is still in its early days.
Bear in mind the AWS event marked 15 years since Amazon sold its first cloud services.
"Despite what feels like massive adoption, we're actually just getting started," Selipsky said during his keynote. "Analysts estimate that perhaps 5% to 15% of IT spending has moved to the cloud. There are so many workloads that are going to move in the coming years."
So, it's taken 15 years to get where we are today and in those 15 years, prices have declined, products have evolved, and utilisation has changed, but adoption has certainly accelerated.
What's happening now is something Bernard Golden, a VMware Executive Technical Advisor, recently noted as a 'Jevons Paradox'.
William Stanley Jevons was a 19th century British economist who published a study of British coal consumption, in which he noted that people actually consumed more coal as coal prices dropped.
The expectation would be for the savings to go elsewhere, but instead people were buying more coal to use for purposes they couldn't previously afford.
Golden believes the same thing is happening with cloud consumption. With IaaS, PaaS, and SaaS now all relatively affordable, enterprises are able to discover and unlock new use cases for cloud within their organisation.
3 areas of cloud momentum for 2022
This is driving innovation in new areas where historically it has been cost prohibitive to use a data centre. And there are three key areas where this development is expected to have an impact over the next 12 months:
Platforms
Marketplaces, ecosystems, and communities seem to be popping up everywhere. We're all used to the traditional B2B, B2C, and even B2B2C business models, but the interconnectedness of the cloud is also enabling the customer-to-customer or consumer-to-consumer (C2C) economy, where individuals connect with each other to trade goods and services.

Some of these platforms, such as Amazon, Uber, Facebook and Etsy, have grown to be huge and spawned entire sectors dedicated to facilitating these interactions and transactions. It's all about the value add and competitive advantage will depend on the ability to pivot and develop new, or more profitable business models built around the platform.


Customer Experience (CX)
This is kind of a staple in that companies are always trying to meet and exceed their customers' evolving expectations, but the cloud is enabling this in new ways. From apps, to a smooth omnichannel experience where customers can move seamlessly between different modes of interaction, to hyper-personalisation.

Adjacent technologies like AI and IoT and wearables are increasing the level of automation and creating greater depths of immersion with brands.

For many sectors, especially those operating on slim margins or in mature, highly competitive markets, CX will be the battleground that businesses fight on.


Digital supply chain
It's not just companies trading in physical goods that have been hit hard by supply chain issues over the last 12 months. The impact has been the same whether for pallets of wood, or clothing, or raw materials for microchips, to entire servers.

To address this challenge, companies are turning to the cloud to get a more complete view of suppliers, inventories, warehouses, and other information, using real-time dashboards, advanced analytics, and algorithms to flag up potential problems.

The big three - AWS, Azure, and Google Cloud - have all released cloud products that help companies build a 'digital twin' - a representation of their physical supply chain that lives in the cloud. By bringing all the data from disparate sources into one place, companies are able to model their entire supply chain and perform optimisations or even test entirely new ways of working.

Analyst Forrester makes reference to these developments in a report on 'industry clouds' - clouds that offer capabilities at every layer of the stack, tuned to specific industry use cases. In other words, using the cloud to do things that you weren't able to do before.

It is at this layer that Forrester is seeing the most innovation, because these applications draw from all the industry capabilities at the other layers of the stack.

"Industry clouds provide quick time-to-value. They let businesses focus their scarce IT talent on activities that offer true brand differentiation. This evens the playing field between enterprises and smaller businesses," the analyst said, because it breaks up the complexity of an industry specific solution so businesses "aren't locked into digesting the entire elephant at once".
Connectivity is still critical
Of course, this fragmentation of suppliers and value-adders across multiple ecosystems requires secure, reliable, and scalable connectivity.
New cloud-enabled business models and industry specific clouds play to the strengths of the technology - being able to pick and choose, on-demand, best of breed components to make a solution.
Network-as-a-Service (NaaS) offerings, such as Console Connect, have emerged to help organisations manage and optimise their disparate network assets from a single pane of glass.
It enables organisations to create a distributed topology that serves their applications and content closer to consumers and delivery networks in a highly available and secure fashion.
In a multi-cloud world, a NaaS platform can provide real time access to all clouds and ecosystems from enterprise locations around the world, as well as interconnect public cloud instances with your existing data centres and other private clouds to build a bespoke infrastructure that maximises your potential.