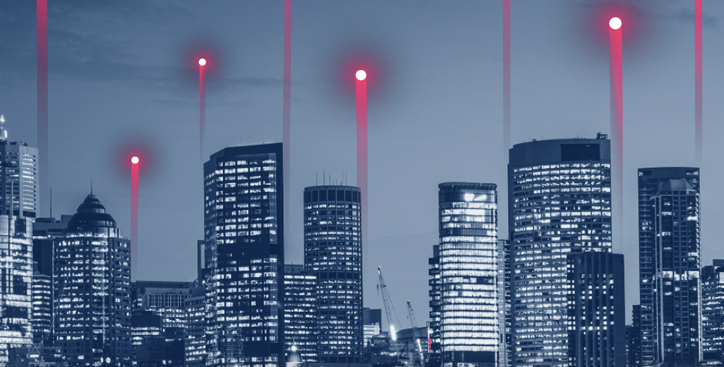 How To Prepare Your Business For High-Frequency Change
01 March, 2021 by Alex Hawkes
"The future-ready enterprise can only be understood as an ecosystem of interdependent components."
In our latest webinar, Applied Futurist Tom Cheesewright and Console Connect's Neil Templeton dug deeper into the findings of our 'Building Tomorrow's Interconnected Enterprise' report, and highlighted how rapid technological change is disrupting traditional business models.
Adapting to high-frequency change
Up until recently, many organisations have been focused on a process of optimisation and refinement.
"For the last 50-100 years of business, we've been trying to focus on 'how do we do what we did yesterday better tomorrow'. So how can we optimise our organisations? How do we smooth our processes? How do we eke out more profit and growth?" says Tom.
This process of refinement and optimisation has served many organisations well until recently, when "waves of high frequency change have started to blow through and turn these processes upside down".
"Highly optimised organisations really struggle to respond at speed if they are tightly optimised for a specific task, service or market. In that case, building something new or responding to changes in the market is more challenging. The damage can be critical to a more monolithic organisation, but a more network resilient and innovative organisation will survive," says Tom.
The transition from monoliths to ecosystems has begun
We are starting to see evidence of organisations rethinking their approach in response to high-frequency change.
"Organisations, for example, are shrinking in terms of headcount. They are pushing a lot of their capability out of the core organisation and becoming more reliant on a complex network of partners and a diverse supply chain from around the world," says Tom.
In the report, we cite the example of General Motors, which in the early 1990s was the largest company in the world was General Motors. According to its annual report in 1993, it held 17% of the global automotive market, selling 7,310,000 cars. In doing so it made $132 billion in revenue, employing around 400,000 people between salaried and hourly workers.
Fast forward to 2019. GM made 7.7m cars and $137 billion in revenue - just slightly more than in the earlier period. But this time, it did it with only 164,000 staff (see graph below).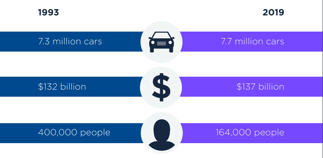 "They've done this by being more efficient and automating some of that capability, but also by pushing some of that capability out into this complex supply chain around them," says Tom.
At the same time, we are also seeing the revenue per head at organisations increase significantly. The most successful organisations in the world now have revenues per head of upwards of $1-2 million (see graph).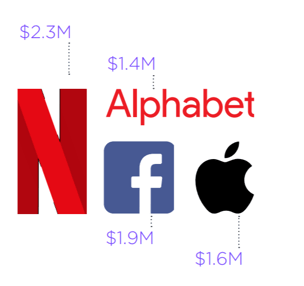 "Smaller organisations are leveraging big supply chain networks and big partner networks and distribution to achieve incredible scale," says Tom.
Removing complexity through automation
The transition from monoliths to ecosystems brings with it new considerations and complexities for enterprises. The ecosystem-based model relies on richer communications and connections with different partners around the world, and the ability to access more cloud platforms and SaaS providers.
It also creates significant new considerations for IT professionals and system and network architects:
How well do they understand new protocols and standards?
How do they manage integration and interoperability between many partners?
How can they keep control and visibility over a rapidly-expanding IT environment?
"Thankfully, advances in automation, API standardisation and software-defined networking are helping to simplify and automate some of these processes," says Neil. "A good example of this is our Console Connect platform which is making interconnection between users, clouds, applications and infrastructures so much easier for businesses."