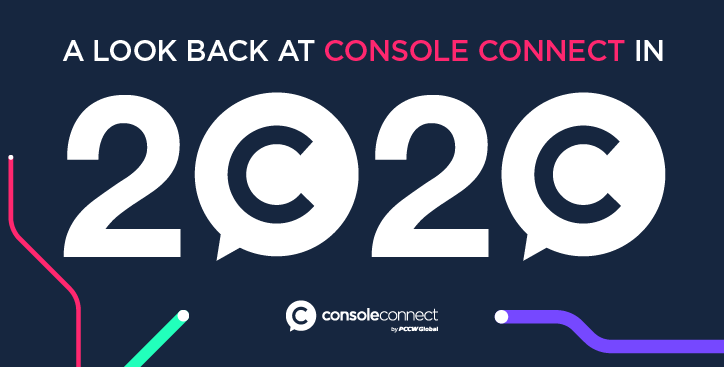 A Look Back At Console Connect In 2020
14 December, 2020 by Alex Hawkes
2020 has been a year of challenge and change for the world. The global pandemic has accelerated the pace of technological change for businesses around the world, leading to a shift in working patterns and prompting the move to a more virtual workforce.
For Console Connect, it has been a year of significant growth. Our Software Defined Interconnection® platform has become home to a much larger ecosystem of cloud, IX, SaaS and IoT providers, while at the same time we've extended our reach to more than 400 data centres across 47 countries. We've also introduced more on-demand services and new features to the platform – making it even simpler, easier and quicker for our users to connect.
Here we take a look back at some of our highlights from 2020…
Australia and European expansion
Console Connect kicked off 2020 with a series of announcements in Australia. First we expanded the platform into more key data centres across Australia, including locations in Sydney, Perth and Brisbane. We then announced an API interconnect and bilateral collaboration with the Internet Association of Australia (IAA), enabling IAA members on the national Internet exchange platform to access Console Connect services on-demand.
Australia, which is also home to Console Connect's software development team, continued to be a strong focus for us in 2020, as later on in the year, we announced a new collaboration with NEXTDC that united our platform with their virtual interconnectivity platform, AXON.
Our focus turned towards Europe in April, when we began a major expansion programme that saw us rapidly expand our partner ecosystem and add a large number of new European data centre locations to the platform. As well as delivering more interconnection choice in major European data centre hubs, such as Frankfurt, London, Amsterdam and Paris, we also expanded into new European cities, including Dublin and Madrid. As part of our European expansion, we announced many new data centre and IX partnerships, including Global Switch, Cyxtera, Telehouse, IP House, KevlinX, NewTelco, EdgeConneX and Keppel DC.
Connecting more clouds
Meanwhile, it was becoming apparent that businesses worldwide were accelerating their adoption of cloud-based services to support the needs of an increasingly virtual workforce. In June, we took part in a joint webinar with Google Cloud to demonstrate how Software Defined Interconnection® can optimise cloud networks and help businesses connect their IT infrastructure to the Google Cloud Platform (GCP) in Asia Pacific.
Console Connect is a market leader for on-demand network connectivity in Asia Pacific, and during 2020, we also strengthened our position in key markets across the region. This included new partnerships with Telin, HKCOLO, HKEX Hosting Services and iTech Towers.
In July, we expanded our partnership with IBM Cloud Direct Link to provide secure, reliable and low latency network connections to the IBM public cloud from data centres across Asia, Europe and the Americas. We have since added many new IBM Cloud locations to the platform, including Dallas, Miami, Osaka, Sydney and more.
Later in the year, we also added Anexia to the platform, giving our users direct access to their broad range of cloud-based services.
Transforming carrier interconnection
2020 saw us deliver new value to carrier customers. At Capacity Middle East in September, we announced that a new cloud networking company, neutrality.one, would be using the Console Connect platform to provide global connectivity services to its enterprise customers in Asia, the Middle East and Africa. The partnership is a good example of how we are helping carrier customers extend their backbone network at the click of a button.
Later that month, we also added a new point-of-presence (PoP) at NJFX's Cable Landing Station in New Jersey, US. Using the Console Connect platform or an API, NJFX customers can now access PCCW Global's MPLS network to directly reach major cities across Africa, Asia Pacific and Latin America.
Spotlight on SaaS
As the Console Connect partner ecosystem grew throughout 2020, we on-boarded several new SaaS providers – enabling our online community of users to directly connect to more apps and services.
In November, we announced details of our new collaboration with RingCentral, which enables users to instantly establish private connections between their enterprise sites and RingCentral cloud services worldwide through the Console Connect web portal.
Earlier in the year, we also strengthened our security offering by welcoming Cloudflare to the platform. Users can now make private and dedicated connections from Console Connect to Cloudflare's network and services, which include DDoS protection and next-gen firewall.
An award-winning end to the year
At virtual Africacom in November, we launched our first Africa Interconnection Report. Produced by consultancy firm Balancing Act, the report looks at the important role network automation can play in Africa, where there has been a significant growth in new data centres, as well as the arrival of hyperscale cloud providers. This year, we've expanded the availability of Console Connect in the region through a partnership with Teraco.
At the event, we also collected an Africacom award for Best Service or Product Innovation. This sparked a winning streak that saw Console Connect named Wholesale Innovation Disruptor Of The Year at the 2020 Global Carrier Awards, and receive two awards at the 2020 Telecom Review Excellence Awards, when we were named Most Innovative Service and Best Carrier Enterprise Service.
New services in 2020 and beyond
We ended 2020 with the launch of our new Internet On-Demand (IO-D) service. Complementing our existing private, layer 2 connectivity services, we can now offer our users business internet access that is delivered across a global tier 1 IP network, which is available on-demand via the Console Connect platform.
During 2020, we also added a colocation offering to the platform that brings together fully customised, flexible colocation solutions at Tier 3 & 4 data centres around the world with instant access to our Software Defined Interconnection® platform.
Finally, we've recently introduced new design features and functionality to our web application that make connecting even easier, faster and more intuitive. As well as updating the Console Connect dashboard and improving navigation, we've also enhanced the pricing calculator to give you real-time pricing for connections to clouds, XaaS, Internet Exchanges, carriers, enterprises and more.
"I would like to say a big thank you to all customers and partners for their support during 2020. The enhancements to our platform are a sign of things to come in 2021, as we move more of our business to an automated environment and deliver an even greater choice of on-demand services to Console Connect users," says Michael Glynn, VP, Digital Automated Innovation, PCCW Global.