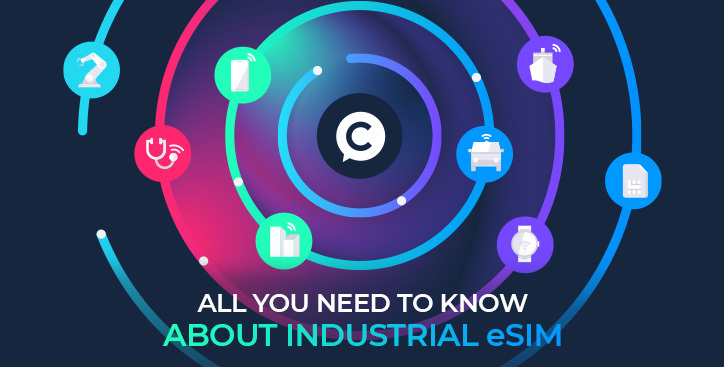 All You Need To Know About Industrial eSIM
08 August, 2022 by Alex Hawkes
Industrial eSIMs are becoming an increasingly popular part of Internet of Things (IoT) projects, giving enterprises better control of their IoT deployments and improving cellular interoperability.
In this blog, we delve deeper into the benefits and uses cases of industrial eSIMs.
Connectivity and the Internet of Things
From home appliances and consumer goods, through to cars, robotics, medical equipment and industrial machinery, the availability of eSIMs is changing the game when it comes to IoT solutions.
Without connectivity there is no Internet of Things. But in a world where cellular connectivity is largely based on hardware Subscriber Identity Modules (SIMs) locked to a specific provider, this is a complex challenge.
Many use cases for IoT focus on sensors attached to things that move - from trucks, to shipping containers, even cattle - and where sensors don't move - such as those for pipes or building temperature - manufacturers seek economies of scale by producing a single design that is shipped worldwide.
But when these devices reach their destination, they need to have a local SIM inserted to get online. If that device changes geographic location permanently, it likely needs someone to go out and swap the SIM for one operated by a local provider. For any organisation using IoT devices across multiple regions, this can be a logistical nightmare.
In fact, it's widely recognised that a longstanding barrier to the long-term success of IoT is permanent roaming. Many cellular operators will seek to disconnect devices that have been roaming for over 90 consecutive days, which goes against the global potential for IoT.
IoT devices such as shipping container trackers will spend much of their lives on roaming networks and given global supply chain issues could be stuck in far-flung locations indefinitely.
What is an eSIM?
The eSIM (Embedded SIM) is a software programmable module that enables profile swapping and localisation without the need for a hardware swap.
It's seen by many as a key enabler for IoT adoption and globalisation with more than 14 billion eSIM devices likely to be shipped between 2021 and 2030, covering all form factors, a new report has shown.
In 2030, almost three in four cellular devices shipped will sport an eSIM, according to estimates released by Counterpoint Research in July.
The expectation is that eSIMs have the potential to see enterprises assume better control of their IoT deployments to accelerate the rollout of remote operating models that deliver exceptional and reliable customer and employee experiences at the network edge.
ESIMs are seen as the key to solving the cellular interoperability challenge, and allowing enterprises to make their own decisions about IoT connectivity and network selection.
What is an industrial eSIM?
In terms of application, the main difference between consumer eSIM such as that we expect to see deployed in future iPhones, and industrial-grade eSIM or M2M (Machine-to-Machine) eSIM, is in the activation and management.
Industrial eSIMs require a different infrastructure because the IoT device they support is not directly controlled by an individual. Consumers are protected by all sorts of privacy regulations that make remote activation and control of IoT devices difficult.
For industrial usage however the opposite is true. Organisations absolutely need to be able to activate, configure and manage eSIMs and the associated IoT devices remotely and with ease.
Furthermore, industrial eSIM implementations may well be in non-standard ways. For consumers the application may be a watch, a phone, or a security camera, but in an industrial setting the eSIM may need to be embedded in a ruggedised device for extreme environments.
Benefits of using an industrial eSIM
It's widely expected that the eSIM will begin replacing the physical SIM as it becomes a major factor in IoT device design, with profile swapping for IoT eSIMs beginning to be offered as a service.
In terms of localisation, eSIMs better enable global IoT users to develop connectivity partnerships that enable local connectivity solutions to both reduce costs and overcome regulatory barriers.
Intelligent eSIM and network localisation solutions utilising agreements and network interconnects with regional operators offer an opportunity for global IoT deployments to sidestep the roaming restrictions and achieve seamless global connectivity without compromise.
Industrial eSIM use cases
Analysts have identified asset tracking as the fastest growing industrial IoT market and it is expected that most connected devices will be location aware within the next decade.
These same devices will also have high expectations of battery life to reduce the need for human maintenance and will be tasked with passing various information back to an edge gateway or to a central cloud.
There are wide and varied use cases for eSIMs across different industry verticals. In the shipping sector, for example, IoT solutions can help monitor and communicate the environmental and physical conditions of containers and their contents to more effectively preserve time-sensitive goods like produce and to prevent cargo damage during transportation.
In another example, a connected car manufacturer installs eSIMs into vehicles during manufacturing. Cars can be shipped anywhere in the world and the eSIMs are activated when the vehicle is sold.
The solution needed to provide connectivity for collecting car performance data or provide in-car internet access with navigation, social media access and infotainments in a secure manner. The manufacturer also needed full control of the IoT connection and the ability to only pay for connectivity when the service is activated.
eSIM by Console Connect
The ubiquity and potential of the eSIM can prove invaluable within IoT projects.
With Console Connect IoT, you can launch IoT devices in over 180 countries and territories in the world without the need to swap for a local hardware SIM.
Delivered via an extensive worldwide partnership of 2G, 3G and 4G cellular networks, Console Connect is able to provide one unified connectivity management portal and/or API to integrate its IoT capabilities with your own systems in a fully automated fashion.
Console Connect IoT also provides flexible pricing plans to meet customers' requirements for agile solution implementation on a case-by-case basis.
Furthermore, the Console Connect IoT service is supported by our extensive private global MPLS infrastructure, and private links to destination public or private clouds, providing enhanced security, latency, and reliability for mission critical IoT deployments.