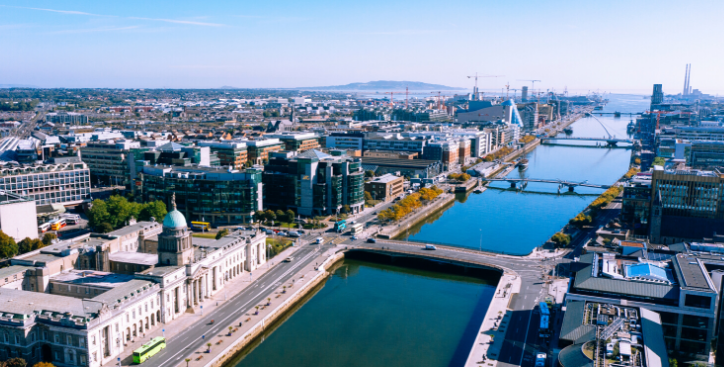 Beyond The FLAP: Europe's Emerging Data Centre Hubs
20 July, 2020 by Alex Hawkes
Demand for locally hosted cloud and internet services is driving data centre investment across Europe.
As a result, new interconnection hubs are emerging across the continent that are starting to compete with Europe's traditional data centre hubs of Frankfurt, London, Amsterdam and Paris (FLAP).
Here we take a look at the European cities that could emerge as rivals to the FLAP markets in the years to come.

DUBLIN
Dublin is a city that is certainly closing the gap on the FLAP markets. In recent years, the Irish capital has attracted many of the world's largest tech players through various government initiatives, a favourable tax environment and a young, highly-skilled workforce.
Dublin is the European headquarters for Google, while Facebook, Microsoft and Amazon have invested considerably in data centres in proximity to the Irish capital.
According to recent estimates, the country has a total of 54 data centres facilities, with at least eight new data centres under construction and planning approvals are in place for many more.
Like the UK, Ireland is in a strong position to act as a gateway between the US and Europe. Unlike the UK, however, the country remains in the European Union, which could work in Dublin's favour when competing with London's data centre market in the years ahead.

MADRID
Madrid has made a strong claim to be the connectivity hub of Southern Europe. The south of Spain has a high concentration of subsea cable landing points, providing connectivity to both Latin America and Africa.
The city's data centre sector is experiencing considerable growth, with several data centre providers recently expanding their presence in the city and Global Switch recently moving into the market for the first time.
As Spain's political and financial centre, Madrid attracts more foreign investment than other Spanish cities, which is creating greater demand for cloud services. As a result, Google Cloud has announced a new cloud region in Madrid, while Microsoft also plans to introduce its first Azure cloud data centre region in Spain later this year.

ZURICH
The Swiss city of Zurich is home to one of Europe's largest financial markets, making it an obvious data centre hub – particularly as the country is also a European leader in producing green energy.
An estimated 68% of the country's energy consumption comes from renewable sources, including large scale hydroelectric, solar and wind power. The country even introduced the Swiss Data Centre Efficiency Label, which aims to decarbonise data centres in Switzerland and significantly reduce their overall energy consumption.
The country's strong data protection laws have also caught the attention of major cloud providers. Zurich is home to Google's largest engineering offices outside of the US, and last year, Google Cloud added a data centre region in Zurich. Last year, Microsoft also added an Azure data centre region in Zurich.

MILAN
Milan is another European city that is looking to further take advantage of its geographical significance. Located between the Mediterranean basin and Europe, the city is a key termination point for traffic coming in and from the Middle East and North Africa via Sicily and Bari.
As the most fibre-dense area in Italy, Milan is experiencing fresh investment in its data centre sector. Three large data centre campus sites have emerged in and around Milan in recent years.
These new facilities are supporting the requirements of the city's financial services and automotive industries, which are also attracting the interest of cloud providers. Earlier this year, AWS opened its first Italian AWS region in Milan.
MORE INTERCONNECT CHOICE ACROSS EUROPE
Console Connect is now enabled in many more data centres across Europe, including key locations in Dublin, Madrid, Zurich and Milan.
See our full list of European data centres.