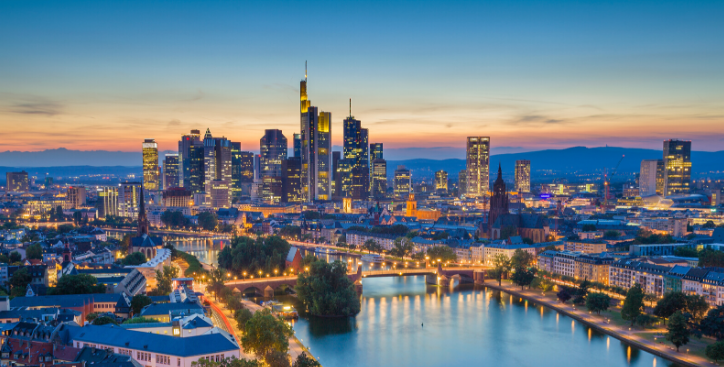 FLAP Focus: What Makes Europe's Data Centre Hubs So Popular?
10 July, 2020 by Alex Hawkes
The role of the data centre is now more critical than ever. The rapid adoption of cloud-based services has created enormous demand for new data centres facilities, particularly in Europe's most established data centre markets; Frankfurt, London, Amsterdam and Paris (FLAP).
Demand for colocation space in these four European cities has been increasing since 2016, and according to CBRE, the FLAP market grew by a record 24% in 2019. That demand is largely being driven by hyper-scale cloud companies that need to locally host cloud and internet services. In fact, cloud was responsible for almost 80% of take-up in the FLAP last year.
Such is the pent-up demand for colocation space in the FLAP markets that some cities are now facing a challenge to meet the demand for colocation space and power availability. Let's take a closer look at the dynamics of each market…

Frankfurt
Frankfurt is one of Europe's fastest growing data centre markets. Nearly half of colocation take-up in the FLAP markets in 2019 was within the Frankfurt market.
The German city is in-demand for a number of reasons. Firstly, it acts as Germany's financial hub and is home to the European Central Bank, the German stock exchange and hundreds of other commercial banks.
Secondly, the German Internet Exchange (DE-CIX) has helped establish the city as an international connectivity hub. DE-CIX is distributed in more than 30 data centres in the Frankfurt metro region and connects over 850 networks.
Lastly, the city has room to grow. According to Cloudscene, Frankfurt is now home to 114 data centres. With many expansions or new data centre projects planned in the Frankfurt metro area in the coming years, the city looks certain to play a prominent role in meeting the demand for colocation space in Europe.

London
The UK capital continues to lead the way in Europe in terms of total number of existing data centres, and, according to Cloudscene, is currently home to 177 data centres.
The city acts as an important interconnection hub between Europe and North America, making it particularly attractive for US hyperscale cloud providers. London is another important financial hub and the city continues to attract a large number of international companies – many of which are headquartered in proximity to London's docklands area. This is also a where a large proportion of the city's data centre facilities can be found, along with the major carriers and cloud providers that serve the capital city.
Space in the London Docklands area is becoming a precious commodity and investment into new data centre facilities is having to look further afield. For example, a major new data centre facility is opening in September in Dagenham, which is situated less than 15km away from the Docklands, while multiple new data centre facilities are planned in the industrial suburb of Slough, located just outside of West London. It is hoped these emerging data centre spots can support the long-term hosting needs of the city.

Amsterdam
Amsterdam is also having to rethink its approach to building new data centres. In fact, a temporary ban on data centre development has been imposed in certain parts of the Dutch capital as the government looks to revise its policy on data centre planning. As a result, the city is expected to see a year-on-year decline in new colocation capacity coming online in 2020, according to CBRE.
The Amsterdam region, which covers a radius of approximately 50km, is said to house about 70% of the Netherlands total number of data centres.
Amsterdam remains one of the most connected cities in the EU and serves as an important connection point between the UK and Europe. It is also home to the Amsterdam Internet Exchange (AMS-IX), which is one of the largest internet exchanges in the world with over 800 members.
The city has also emerged as one of Europe's largest fintech hubs, with over 430 companies active in the market, according to Holland Fintech. Along with the Amsterdam's other tech companies, these new businesses are expected to drive further demand for colocation space – putting more pressure on the city to find a resolution to its data centre planning policy later this year.

Paris
Although still the undisputed connectivity hub of France, Paris is facing competition from other French cities, such as Marseille, Lyon, Lille and Strasbourg, which are currently experiencing investment in new data centres. This has been further stimulated by a tax reduction on electricity consumption for data centres introduced by the French government.
The French government has also been active in supporting the country's tech start-ups. France now boasts one of the fastest growing tech start-up ecosystems in Europe, and Paris is at the heart of it. The city's tech sector is booming and is home to the world's largest start-up incubator; Station F is a disused rail depot in the south-east of Paris that has been transformed into a co-working space for more than 1000 tech start-ups.
The city's start-ups are expected to create long-term demand for data centre space, with new investment in data centre facilities currently being made in and around Paris.
More interconnect choice in the FLAP
Console Connect is now enabled in many more data centres across Europe, including more interconnect choice in Frankfurt, London, Amsterdam and Paris.
See our full list of European data centres.