How to connect your digital ecosystem in Singapore
By Alex Hawkes|17 July, 2023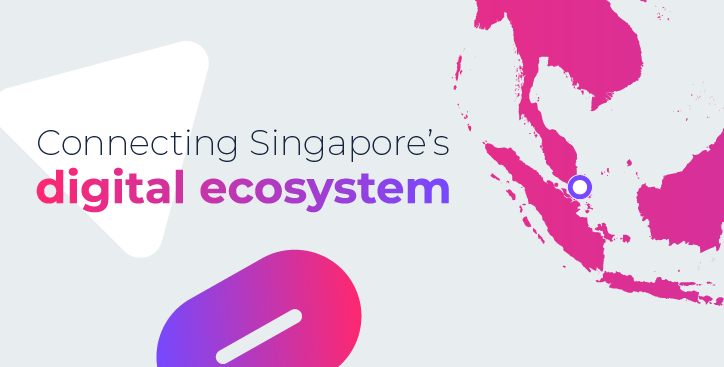 Singapore's location at the crossroads of important trade lines and the gateway to Asia has long given it strategic advantage as a hub for global industry, originally as a nexus for physical trade routes and now for digital connectivity, with more than 25 subsea cables landing on the island connecting Singapore to every continent.
The city-state is also considered to be one of the leading business hubs not only in Southeast Asia, but in the world, earning the title of numberone 'best business destination' by the Economist Intelligence Unit due to its high level of economic and political stability.
Leveraging Singapore's position as a business hub
A recent McKinsey survey also identified Singapore as an ideal place to facilitate "new-business building" — a top three priority for 56% of business leaders in Asia Pacific, and the primary priority for 20%.
One of the main attractions here is the innovative efforts of the Singapore government to support a healthy and competitive business environment. The government has adopted an active policy to promote use of public cloud for its own systems, leading the charge and driving significant traction across most industry verticals, including financial services, retailers, media companies and public sector.
Prime Minister Lee Hsien Loong, who has served since 2004, has long encouraged the government sector to adopt public cloud technologies and to "re-engineer" and "re-design" the way the government operates through digital transformation.
The creation of Singapore's Government Technology Agency (GovTech) and Smart Nation and Digital Government Office (SNDGO) were intended to drive this digital transformation and promote public cloud adoption in both the public and private sectors.
As a result, McKinsey notes that as well as being home to an array of large regional companies and multinationals, some 43% (15 companies) of Southeast Asia's unicorns (companies with valuations of US$1 billion or more) are based there, demonstrating the positive impact of the policies.
Digital infrastructure in Singapore
When it comes to fibre connectivity, Singapore remains at the top in APAC, naturally giving it pole position as a data centre hub, with some 60% of data centres in the region located here thanks to its exceptional international and regional connectivity, low risk of natural disasters, and the widespread adoption of digital technologies in the economy.
But while Singapore has become a key hub for digital infrastructure, it is only a small country, just 278 square miles in size, counting more than 70 operational data centres with a footprint of more than 378MW, or more than seven per cent of Singapore's electricity.
As well as being short on space, this also introduced environmental concerns since the country's electricity mostly comes from fossil fuels.
The trend even drove a three year new data centre development moratorium, which was lifted in late 2022 with a pilot Call for Application (CFA), according to the International Trade Administration.
The plan going forward is to encourage data centres that are more sustainable, reduce carbon emissions, invest in green technologies, and have a higher-performance infrastructure to help the government fulfil its environmental obligations under the 2015 Paris agreement.
New proposals must invest in hydrogen or solar panels, have 1.3 and below Power Usage Effectiveness (PUE); be Platinum certified under Singapore's BCA-IMDA Green mark and use "State of the art technologies and best practices for sustainability." This is driving data centre providers to rethink strategies and explore new business models including floating data centres.
Data centre infrastructure growth
According to the 2023 Global Data Center Market Comparison report by Cushman and Wakefield, Singapore is ranked third globally for its data centres, behind Northern Virginia and Portland in the US and ahead of Hong Kong, another popular destination in APAC.
Although the moratorium has slowed new developments, existing plans were allowed to go ahead and Google this year has opened a new data centre in Singapore, after the opening of the first in 2011 and second in 2015.
An article in the Straits Times recently also identified Digital Realty and Equinix as having made submissions to the local authorities to expand their assets. Digital Realty, which already has three data centres, is looking for approval for a new operation, while Equinix is expanding its fifth data centre in Singapore.
So while new infrastructure builds have dropped off, interest has not and in late 2022 Microsoft announced the launch of its first Datacenter Academy (DCA) in Singapore to help address the significant skills shortage in the region.
Created in partnership with ITE, the DCA is a five-year commitment to empower ITE students with a focus on building applied datacenter skills.
According to IDC, Microsoft, its ecosystem of partners, and customers will create over 86,000 new jobs in Singapore by 2026, of which over 50,000 will be skilled IT jobs, helping to address a growing skills crisis.
It is expected that demand for cloud in Singapore will remain high with the rapid growth of SaaS, ecommerce, IoT, Artificial Intelligence, crypto, and online gaming, according to the International Trade Administration.
Bringing the cloud ecosystem together
Singapore has a well developed market for data centre services and cloud adoption that has increased after the COVID-19 crisis, although it was already in motion before the pandemic.
"Digital transformation is on the rise in Singapore and Malaysia and will continue to grow," said Deepraj Emmanuel, director at analyst ISG (Information Services Group) Asia Pacific, in a 2022 report. "Private and hybrid/multi-cloud providers are helping make this possible."
This rising demand for cloud products and services is linked to several enterprise IT trends in the region, including growing needs for automation, sustainability and edge computing, the report said, noting that this is tempered by a major push for sustainability and a shortage of IT skills.
But with strong headwinds on the horizon and recessionary pressures rising, businesses will seek to derive greater benefits from the cloud, according to analyst firm IDC.
"Asia Pacific organisations are maturing in their use of cloud, data and new technologies to drive greater efficiencies and deliver on innovation and value creation for the business. These will increase their focus on automation, cloud management, FinOps, sustainability and cost management," said Daphne Chung, Research Director of Cloud and Software, IDC Asia Pacific.
The challenge is that as businesses in Singapore embrace digital transformation and accelerate their adoption of cloud-based services, traditional network services are struggling to keep up.
This is where a Network-as-a-Service (NaaS) solution like Console Connect come into play. The platform provides private network connectivity between enterprises and all the public cloud service providers (CSPs) such as AWS, Azure, and Google Cloud, and more that have a presence in Singapore.
They also serve as aggregators and intermediaries to quickly provision logical connectivity to cloud service providers and offer a management dashboard that provides billing, monitoring, security, and administration from a single interface.
Through the easy-to-use Console Connect platform, your business can flex bandwidth on-demand between key Asian markets and across the world in a few simple clicks – leveraging one of the world's largest high-performance networks. Or you can self-provision direct connections to leading cloud providers throughout the region whenever you need to.