Introducing our new cloud partner: Vultr.
By Alex Hawkes|10 July, 2023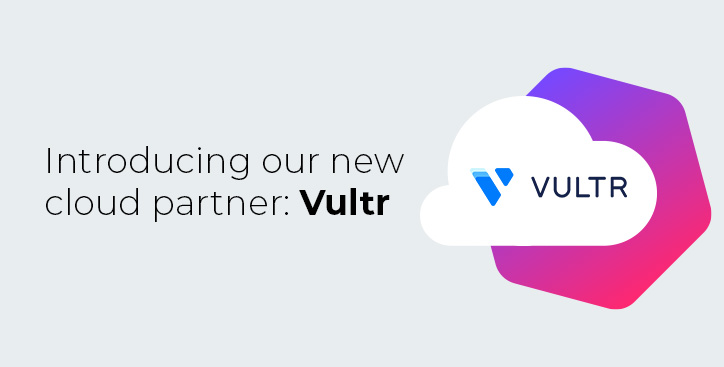 We recently welcomed Vultr to the Console Connect ecosystem. In this blog we share some insights into our new cloud partner and explain how Console Connect can privately connect businesses on-demand to Vultr cloud services globally.
Who is Vultr?
Founded in 2014, Vultr is on a mission to empower developers and businesses with its own suite of robust cloud infrastructure offerings.

Run by a small team of industry veterans, Vultr is strategically located in 32 cloud data centres around the globe through partnerships with the likes of Digital Realty, GTT, Interxion, and Equinix, and provides public cloud services and single-tenant bare metal servers.

With a focus on speed and ease of use, Vultr customers can spin up a high performance SSD VPS (Virtual Private Server on a Solid State Drive), and develop on the location closest to you before deploying at the locations closest to your customers, whether that's Tokyo or London or any of their other 32 locations.

In September 2022, Vultr launched in cloud data centre locations in Bangalore and Delhi NCR, to complement an existing Mumbai presence, giving it more regions within India than AWS, Google, or any of the other global independent clouds.

Over the last six months, the company has made an effort to expand its global footprint, particularly in underserved regions of the world, with a point of presence in Johannesburg, South Africa, followed by Santiago, Chile, Osaka, Japan, and most recently in Tel Aviv, Israel.
What is Vultr Direct Connect?
Vultr Direct Connect is a physical Ethernet connection, setting up Layer 2 connectivity from Vultr to your own network.

This means companies can bypass the public internet and extend their corporate or co-located infrastructure environment to both public and private Vultr compute resources across the globe, ideal for decreased latency and higher network performance.

Benefits of a private connection include:
Applications that transfer data via the public internet can be slow and unreliable. Private connections deliver guaranteed bandwidth and a minimal number of hops.
For bandwidth-heavy applications, a direct connection can significantly cut costs.
By using a trusted network partner like Console Connect, your data keeps safe.


Vultr and Console Connect
Through our new strategic partnership, we've connected Vultr's global cloud data centres using Console Connect's own high-performance network.

Spin-up private interconnections from your data centre or office location to Vultr services in the following locations:
Los Angeles, USA
Toronto, Canada
Frankfurt, Germany
Paris, France
Singapore, Singapore
Japan, Tokyo
Australia, Sydney
Reasons to choose Console Connect for accessing Vultr services
Improved performance: Vultr features best-in-class price-to-performance infrastructure in 32+ locations that can be scaled in an instant. Console Connect's underlying network delivers uncontended service across its privately-owned fabric with assured quality of service and the ability to scale and flex high speed connectivity on demand.
Global reach: Vultr and Console Connect offer vast global compute and networking that brings together directly connected infrastructure no matter where it is located on the globe. Vultr's 32+ cloud data centre locations, accessed from Console Connect's 900+ connected data centres or via an Edge Port at an office location, assureassures delivery of service where it is needed.
Quick deployment: Deploying compute and high-speed connectivity shouldn't take weeks or months. With Vultr and Console Connect, you can spin up all the resources needed to meet the demands of a growing global application in the blink of an eye.
Fully secure: As more services and sensitive data are hosted in the cloud, security measures are ever more important. By using private interconnection to connect to cloud compute services, businesses can ensure that their data and applications are transmitted over a secure, dedicated connection. This approach eliminates the risk of data interception, reduces latency, and improves performance.
Get started
Log-in to Console Connect now to begin connecting to the Vultr cloud.

And for a limited time only, we are offering 50% off your first connection to Vultr. Use the code VULTR2023 and receive 50% off your first L2 connection to Vultr – valid for the whole lifetime of that connection.