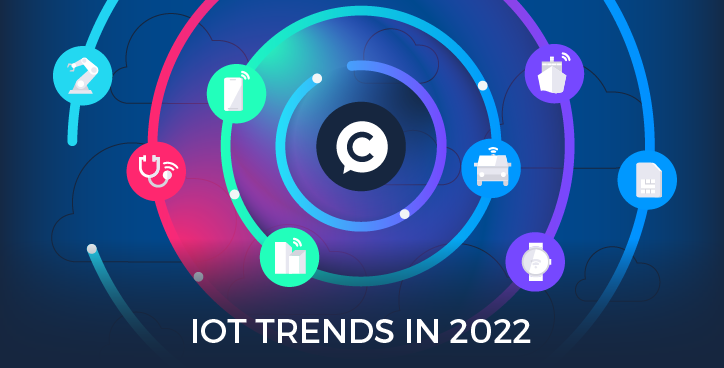 The Internet of Things (IoT) market is evolving at a rapid pace and while some of the early predictions for tens of billions of connected devices by 2022 have proved to be wide off the mark, the use cases are so varied that explosive adoption is likely.
However, the encroachment of IoT into all aspects of our personal and business lives brings with it plenty of concerns, from security and data ownership, to business models that acknowledge and enable the global nature of connected devices.
As we start up a new year in a world that looks quite different to how it did two years ago, here are some predictions on how IoT is shaping - and being shaped by - the world in 2022.
Security
Security concerns for devices and information will continue to grow for IoT implementations. More specifically, it is likely that there will be new ambitious, specific and far reaching regulation from governments.

In November 2021, the UK government made a statement: "Only 1 in 5 manufacturers embed basic security requirements in consumer connectable products, [yet] consumers overwhelmingly assume these products are secure".

This was the preface to the introduction of the Product Security and Telecommunications Infrastructure Bill - "groundbreaking" rules to protect smart devices from an increased cyber threat, including large fines for non-compliance.

The UK is not alone. In many parts of the world, governments are exploring a regulatory approach to IoT. The US, for example, is introducing an Executive Order on Improving the Nation's Cybersecurity to push IoT device makers to adopt security standards.

But as the regulatory landscape for IoT evolves and governments seek to mitigate risk and protect consumers and the economy, policy makers need to ensure there is clarity among industry stakeholders.



eSIMs
Could 2022 be the year that eSIM becomes the default technology for IoT devices, breaking the 40-year proprietary SIM lock-in for network operators?

eSIMs have the potential to help enterprises assume better control of their IoT deployments and to accelerate the rollout of remote operating models that deliver exceptional and reliable customer and employee experiences at the network edge.

eSIMs could be the key to solving the interoperability challenge, and allowing enterprises to make their own decisions about IoT connectivity and network selection.

Almost certainly, the eSIM will begin replacing the physical SIM as it becomes more mainstream and a major factor in IoT device design, with profile swapping for IoT eSIMs beginning to be offered as a service.
.


Localisation
This leads us nicely into one of the most prominent use cases for eSIMS - localisation.

eSIMs better enable global IoT users to develop connectivity partnerships that deliver local connectivity solutions that reduce costs and overcome regulatory barriers.

A longstanding problem localisation could help solve is that of permanent roaming. Some operators will seek to disconnect devices that have been roaming for over 90 consecutive days, which goes against the global potential for IoT. IoT devices such as shipping container trackers will spend much of their lives on roaming networks.

As a result, next generation, intelligent eSIM and network localisation solutions utilising localisation agreements and network interconnects with regional operators, offer an opportunity for global IoT deployments to sidestep the roaming restrictions and achieve seamless global connectivity without compromise.




Multi-Access EDGE Computing (MEC)
MEC aims to extend cloud computing capabilities to the edge of the wireless access networks, offering real-time, low-latency, and high-bandwidth access to network resources. MEC enables operators to open up their networks to a wider range of innovative services, further extending the ecosystem and value chain.

To put this in context, Research & Markets predicts the global MEC market size will reach $23.36 billion by 2028, producing a CAGR of 42.6%.

Driving factors are reduced TCO due to integration of MEC in networks as compared to legacy systems and subsequent ability to generate faster RoI - especially in sectors like retail - by reducing WAN traffic by locally caching data.

MEC will continue to develop momentum, especially as 5G implementations become more common, driving industrial campus solutions.


IoT marketplace
The many and very diversified use cases for IoT solutions will facilitate the development of online marketplaces to enable IoT solution providers to collaborate with other players in the ecosystem.

Such marketplaces will become increasingly popular and accelerate IoT solution development and therefore digitisation.

There are several reasons why marketplaces are important for the adoption of IoT:


Building an ecosystem: Connecting third-parties to increase the relevance of their own digital platforms.
Opening up new monetisation opportunities: Through interconnected data assets.
Discoverability: A central platform for consumers and providers to go to.
Curation: Ensuring consistent quality.



Hyperscalers
Cloud hyperscalers - such as AWS, Microsoft Azure, Google Cloud, Alibaba Cloud and IBM Cloud - will become increasingly more important in the IoT ecosystem as the delivery of IoT application data to the cloud becomes an integral part of most solutions.

Global IoT market watcher IoT Analytics says the $5 billion IoT platforms market is being driven primarily by the adoption of IoT by large enterprises. This segment is typically the biggest consumer of hyperscaler cloud services.

In contrast, five years ago the IoT market was largely made up of smaller companies, but as use cases mature we expect to see enterprises driving adoption and innovation.
About Console Connect IoT
Console Connect IoT is transforming how businesses experience and manage their global IoT connectivity, giving them real-time activation and deactivation, traffic usage monitoring, and customisable rules, using a unique self-service model.
As end-to-end IoT connectivity becomes increasingly complex, Console Connect IoT simplifies the ordering, deployment and change management of your entire global IoT network. Discover more here.