Lessons from hybrid working: Are businesses and networks coping?
By Alex Hawkes|27 March, 2023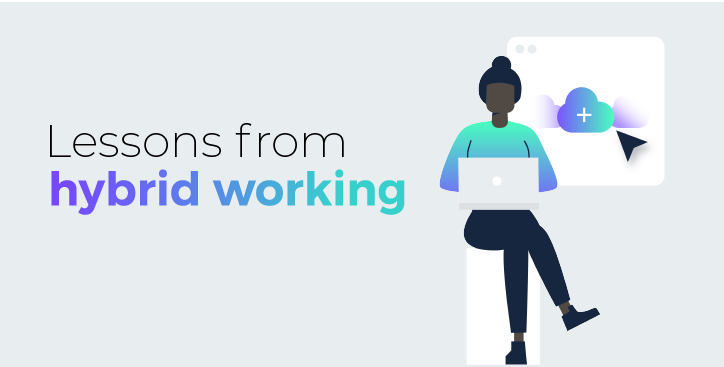 Almost three years into the hybrid working experiment and for some, the unintended pilot has turned into an adopted model, while for others the IT complexities of dealing with a remote workforce remain a persistent headache.

Although hybrid or remote working are not new concepts, there are several reasons it wasn't a widely adopted model prior to the outbreak of the pandemic in 2020. Many of those reasons are cultural, but some are purely technical.

With some corporate WANs decades in the making, it's no easy thing to take a largely centralised model of connecting enterprise employees to the digital infrastructure they need, and flip that so the same capabilities exist not for large concentrations of workers in offices but for individuals scattered around a city, country, or even the world.

Hybrid working is here to stay
Almost every 'office-based' organisation around the world has been forced to engage with a remote working setup in some capacity over the last three years and every impact has been felt the same - in a transition from pockets of employees in one building with good network connectivity, to every employee's home becoming a branch office.

Culture has much to do with the growing adoption of hybrid working. Employees have been vacating positions in droves, prompted by the recognition that if their current employer won't let them work full time from a location of their choice, their next employer probably will.

As a result, remote and hybrid working have become staple features of job specifications, as businesses look to recruit and retain talent.

Glassdoor.com named 'hybrid' as its word of the year for 2021 and revealed that users mentioned the word 1,290% more in 2021 in employer reviews than they had done in 2020.

A 2021 survey of 1,300 workers by Salesforce found this phenomenon is shifting employee expectations. Nearly two-thirds (64%) of knowledge workers said they would consider switching jobs for additional flexibility, and nearly half (49%) of respondents said they wouldn't even consider a job without flexible work hours.


Slacking off fears unfounded
One of the biggest but largely unfounded criticisms of remote work culture is that employees are less productive without the watchful eye of management physically on them.

However, several studies, including the Salesforce one, have found that the number of time-consuming emails sent by staff each week fell by nearly half. Instead, the company found, newly formed remote teams started using collaboration tools such as Slack to increase real-time productivity.
This discovery may have been the prompt Salesforce needed to acquire Slack in late 2021, but there's no denying that the shift to fully remote and hybrid working has accelerated digital transformation projects and introduced a new reliance on communication and collaboration tools like Slack.

This shift has had an impact on capabilities. Moving from largely asynchronous email communication to chat/messaging, and group video or voice calls with real-time collaboration on documents, puts additional strain on the network in terms of latency and reliability.

Furthermore, these applications tend to be cloud-based, so employees need connecting up to the private corporate WAN from their home, if they want to avoid the poor security and resilience of the public internet.
Cybersecurity high on the agenda
The question of security looms large in conversations about hybrid working. For the MPLS-based networks built between many offices, data centres and cloud providers, security was a strong selling point.

But opening up corporate networks to users in hundreds or thousands of new locations, over a multitude of last mile connectivity options, has put a spotlight on security.

When workers expect to be able to telecommute and organisations like the potential of a global talent pool, every remote worker connected via a VPN increases the attack surface area of the network.

According to Cisco's first-ever Cybersecurity Readiness Index released in March, 2023,
a mere 15% of organisations globally have the 'Mature' level of readiness needed to be resilient against today's modern cybersecurity risks.

Yet as digital transformation projects accelerate the threat level grows. Another study by BlackBerry in late 2022 found that 80% of organisations have been notified of a vulnerability or attack in their supply chain software in the past 12 months.

The growing threat of supply chain attacks was first highlighted with the SolarWinds Sunburst attack at the end of 2020.

Addressing the cybersecurity of third parties across complex digital supply chains is a major challenge, but the ability for bad actors to compromise a large number of organisations via a single compromise - essentially using the supply chain as the delivery method - cannot be ignored, with other incidents like Kaseya pushing this issue into the limelight.

Employees add to the threat level. As the lines between work and home life blur, devices become multi-purpose, and we find employees using 'work' devices for personal tasks, and signing into work apps from personal devices.

Bring Your Own Device (BYOD) risks are not new and have been on the agenda for years, but employees working from home have refuelled the challenge as they may be more likely to commit security blunders like using their work laptop for financial, shopping and other personal tasks.

Another challenge which isn't new but follows in the same vein, is adoption of unauthorised cloud apps for work purposes.

Again, the comfort of home can raise the temptation to use unauthorised apps for convenience, and motivated cybercriminals are fully aware of this opportunity, with research in a Netskope report showing that more than two-thirds of malware downloads in 2021 targeted remote workers via cloud apps, with Google Drive identified as the app with the most malware downloads.

Extending the VPN to every worker's home also comes with complexity and the bigger the network gets, the more difficult to manage, not to mention the impact of inherent VPN overheads on application performance.
Consolidation to cut cost
As economic uncertainty persists companies look to consolidate their suppliers to reduce spend, and security services, solutions, and providers are caught up in this process.

Vendor consolidation will be a running theme in 2023 as budget holders look to maximise their investments, and consolidating several different security services into a single, unified solution, can be an attractive opportunity.

Enterprises could also be looking at their overall network architecture. Businesses faced escalating costs with an office-based model as the hub-and-spoke network became more expensive the bigger it got.

Every branch office added needed securing, often with MPLS which is a pricey option that gets pricier with growth. Now with remote workers in place, the public internet is more affordable but also riskier, and the costs of a significant breach might easily outweigh the costs of MPLS in any given year.

As a result, we are seeing the adoption of security appliances and related hardware assets in the cloud, where firewalls, switches and routers are purchased as-a-service.

From a secure connectivity perspective, the very nature of NaaS (Network-as-a-Service) offerings such as those from Console Connect on both a Layer 2 and Layer 3 basis, makes it a flexible solution for many of the challenges facing network engineers today.

It's on demand, pay-as-you-use model makes it highly versatile in highly unpredictable situations, enabling network managers to fire up connections when additional bandwidth or ports are needed and tear the circuit down when done.

Furthermore, businesses can directly connect to major cloud platforms, including Amazon Web Services, Microsoft Azure, Google Cloud, and IBM Cloud, as well as the entire ecosystem of SaaS providers, boosting security and reliability in the face of a wider network surface area and increased reliance on real-time applications.

If anything, the pandemic and hybrid work explosion has heightened the need for companies to adopt digital business models — and only cloud platforms can provide the agility, scalability, and innovation required for this transition.