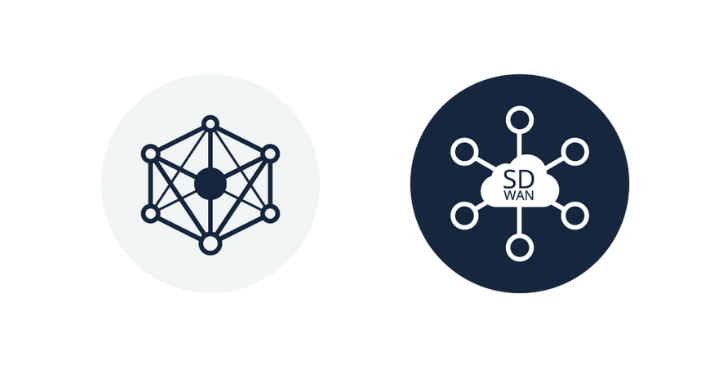 Bandwidth demands per enterprise site continue to skyrocket, while additional pressure has been added to the WAN in the wake of the pandemic and shift to remote working, moving demand from well-connected offices to a scattering of disparate locations.
Yet, while WAN bandwidth demands are increasing by orders of magnitude every year, budgets rarely keep pace and significant numbers of those 'better connected' branch locations experience network congestion during peak hours.
In this blog, we take a closer look at some of the benefits and challenges of implementing Multi Protocol Label Switching (MPLS) and Software Defined WAN (SD-WAN).
MPLS and SD-WAN work together
MPLS has long been the backbone of the enterprise WAN, but can be a big investment and as a result, businesses are often under-provisioned on this front.
As a compromise, organisations are increasingly relying more on cheaper public internet links to close the connectivity gap. But the compromise in this case is what is gained in price is lost in performance.
As this dynamic has played out, the emergence of technological advancements in virtualisation and Software Defined Networking (SDN) have pitted MPLS and the public internet against each other, with the latter coming to encompass SD-WAN.
But, as is often the case, the reality of a deployment is not that simple, and while there are a few significant differences between SD-WAN and MPLS, it's less a case of one versus the other, and more a case of which is more appropriate for your use case.
In many real-world deployments this will mean a mix of the two solutions.
From a very high level perspective, MPLS is a dedicated circuit, which gives it certain features you would expect from a private link, such as security, reliability, and performance.
But you will pay more for every megabit transferred as a result and have a greater reliance on the installation and configuration of dedicated physical infrastructure.
SD-WAN on the other hand is a virtualised overlay network that cares little for the underlying infrastructure, so technically it allows you to leverage your existing MPLS investments as well as other connectivity types such as public internet and 3G/4G/5G.
SD-WAN could be considered to be one big virtual pipe that aggregates all these different connection technologies.
But where it's being pitched 'against' MPLS is in instances where an organisation could replace an expensive MPLS link to a remote or rural office with a public internet connection and an SD-WAN overlay. In some cases this may be possible, but as we mentioned earlier, it largely depends on your specific use-case and requirements.
A more accurate way of looking at it would be to see MPLS and SD-WAN as complementary solutions, where SD-WAN complements a high-quality but high-cost MPLS connection, with a high bandwidth and lower cost public internet service. Then, where reliable performance is necessary and the investment makes sense, traditional MPLS, or the Network-as-a-Service (NaaS) variant of, come into play.
The game-changer: NaaS
NaaS is the game-changer in both cases. When it comes to new deployments, traditional MPLS is a slow contender, with installations often taking several months to complete. It can also be prohibitively costly to deploy in remote, rural or low traffic locations as it's an expensive form of transport with physical infrastructure requirements.
The engineers or CIO tend to buy exactly what they need in terms of capacity over a multi-year term, without any form of buffer for future traffic demand. They will then use hierarchical application and service rules to ensure critical traffic is prioritised.
But with NaaS platforms, such as Console Connect, deployments and changes for dedicated links based on MPLS can happen in almost real-time (as long as the pre-existing physical infrastructure is capable of handling the required bandwidth).
Coupled with SD-WAN, which is effectively another form of connectivity delivered as NaaS, enterprises can further increase their agility, by expanding their branch sites more quickly, and managing their WAN more flexibly and in real-time.
By using the internet as the underlying transport, there is also potential to unlock significant cost savings (but this is only true if the underlying transport fits the bill).
Network provisioning becomes dynamic
To wrap up - MPLS predominantly connects sites to a private WAN infrastructure, whereas SD-WAN typically involves multiple connection circuits, including internet, at each site.
So, if you're running every application from the cloud you might not have much requirement for MPLS. But if you throw private clouds or data centres into the mix and have a latency-sensitive application delivered over highly-utilised circuits, you might be concerned that an underlying internet link cannot handle the packet loss and latency.
But SD-WAN can blend MPLS and internet as underlying bearer technologies and give you more dynamic capabilities. Unlike the traditional physical router-centric WAN architecture, SD-WAN is designed to fully support applications hosted in on-premise data centres, public or private clouds and SaaS.
At the end of the day however, the consistent, optimised and critical nature of MPLS is still required and as such, MPLS is not going anywhere. Although many enterprises do plan on changing their relationship to MPLS, such as going from a strategy of putting MPLS everywhere to only putting it in larger or more critical sites.
In this respect, NaaS can help your business provision branch offices faster with automated network deployment; can optimise application performance over internet or hybrid connections with secure access to cloud apps; and can simplify configuration, monitoring and management with online tools.