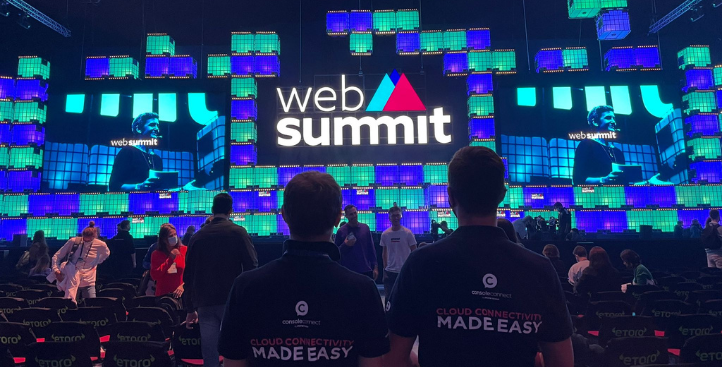 Our Highlights From Web Summit 2021
08 November, 2021 by Alex Hawkes
Web Summit returned in-person last week, as more than 40,000 people descended on Lisbon for the world's largest tech event.
The Console Connect team enjoyed a busy three days of exhibiting and networking at the three day event. Here are some of the highlights…
Facing the biggest challenges of today
After a two year absence due to the global pandemic, there was a huge buzz around the return of this year's event to Lisbon. The opening night – which included talks from Black Lives Matter cofounder Ayọ (fka Opal) Tometi and Facebook whistleblower Frances Hauge - set the scene for a politically-charged event.
From the global pandemic, environmental emergency and rising geopolitical tensions through to racial discrimination and gender inequality, the event tackled all the biggest issues facing society today.
Discussion focused on how tech can be for a force for good - with health tech proving essential in combatting Covid-19, and green tech being equally important in the fight against climate change.
But Web Summit also highlighted how recent global events have proven humbling for tech. The hate speech versus free speech debate currently raging on social media is asking big questions of social media giants and governments.
During her talk on the opening night, Ayọ talked about the challenges the blacklives movement continues to face online. When asked what Black Lives Matter can teach the tech industry, Ayọ poignantly replied: "Who will you be, coming out of this conference? What side of history will you be on?"
From climate to crypto
Just as the world emerges from Covid-19, politicians congregated in Glasgow for COP26 to agree urgent collective action against climate change.
Major tech giants are also under pressure to reduce their carbon footprint, with the likes of Amazon, Google and Microsoft setting themselves targets to be carbon neutral or negative in the coming decades.
During Web Summit, there was pressure for the tech industry to do more – and turn talk into action. "We need to move from carbon pledges to climate progress," said Brad Smith, president and vice chair at Microsoft.
This need for action was reflected by the 200 climate focused start-ups participating at the event. Crypto currencies were another strong area of focus, with more than 200 start-ups in that space exhibiting at the event.
They would have been inspired by the story of crypto-driven Non-Fungible Token (NFT) fantasy football start-up Sorare, whose founder Nicolas Julia spoke at the event.
Sorare raised an impressive US$680 million in September last year, and has sparked further interest and investment in NFT marketplaces, where users trade "one-of-a-kind" digital assets that are stored on a blockchain.
Cloud connectivity made easy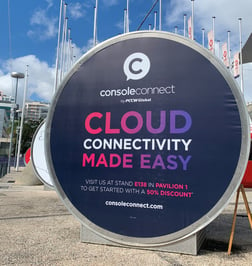 The Console Connect stand was busy throughout Web Summit 2021 as visitors were keen to discover more about our Network-as-a-Service platform.
Our marketing campaign for the event was "Cloud Connectivity Made Easy" as we highlighted to visitors how they can use Console Connect to directly access all the world's largest public cloud providers in real-time and on-demand.
"It was fantastic for the Console Connect team to return in-person to Web Summit this year to reconnect and engage with the tech community," says Neil Templeton, VP of Marketing for Console Connect.
"The connectivity requirements of businesses were profoundly changed by the global pandemic, and we saw a lot of interest in our connectivity on-demand model that enables organisations to be much more agile with their networking. The platform is also a strong fit for start-ups that run many of their workloads in the cloud and need to scale rapidly."