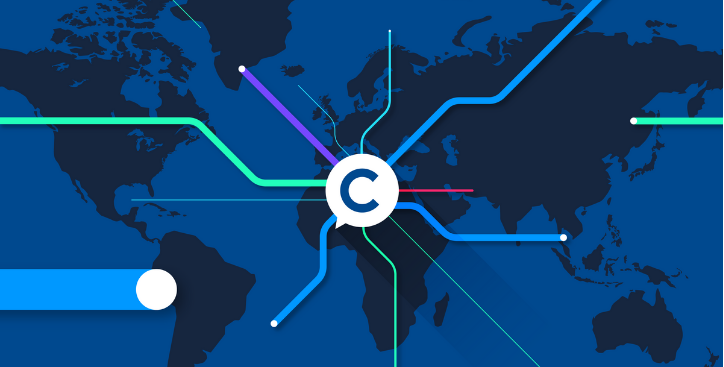 Redefining Carrier Interconnection In 2020
24 July, 2020 by Alex Hawkes
For carriers and service providers, interconnection is a term that has evolved enormously over the last two decades.
Historically, interconnection is associated with traditional voice telephony. In particular, it is remembered fondly for facilitating long distance and international voice calls (a role it still serves today).
The arrival of the internet saw interconnection take on new forms – manifesting itself in both IP peering; where it enables ISPs to exchange data, and in IP transit; where traffic from an ISP or customer network is passed to the carrier in order to connect to the rest of the internet.
More recently, a greater level of automation has been introduced to carrier interconnection through the use of Software Defined Networking (SDN) technology and open API platforms, which are removing a lot of the complexity and costs previously associated with interconnection.
Although the technologies and protocols have changed beyond recognition, interconnection essentially serves the same function as it has always done – which is to connect different carrier networks and allow traffic between their customers.
The key difference is that carriers and service providers can now interconnect in a much smarter and more efficient way, while also managing and delivering services in real-time.
Modern interconnection in action
Console Connect is certainly playing a role in redefining interconnection for carriers and service providers. Earlier this year, we introduced a Wholesale NNI solution to our Software Defined Interconnection® (SDI) platform.
The solution is designed for carriers – both existing and new PCCW Global customers – to be able to purchase traditional and automated carrier-grade multi-services through one NNI interconnection to the PCCW Global Network.
This allows wholesale customers to manage traditional layer 2, internet and other services on one port. Customers can manage this NNI interconnect via the Console Connect centralised web portal, enabling them to manage port contention, network throughput and real-time monitoring of services.
Customers who choose to use the Console Connect automation platform can instantly spin-up layer 2 connections to over 330 data centres in more than 40 countries. They can also use the platform for local or international cloud interconnects - either by using the Console Connect centralised port or by fully integrating into the open API platform.
These connections are delivered across PCCW Global's MPLS IP network, which is widely recognised by the carrier community for its quality of service and high performance. Not to mention its truly global reach – the network provides connections between Africa, the Americas, Asia, Australia, Europe and the Middle East.
A good example of the Console Connect platform and the PCCW Global Network in action can be found in our latest case study with ASE and ActivePort.
ASE is one of Australia's top-10 most trusted data management providers and offers customised, data-centric services to organisations of all sizes and across all sectors. In 2018, ASE entered into a partnership with ActivePort to deploy its intelligent automated self-provisioning platform, which fully orchestrates the ASE global network; both internally and to key API partners.
Much like the Console Connect platform, ActivePort uses SDN agility and functionality to enable real-time, self-provisioning network services through its portal. ASE's core network is fully automated with the ActivePort software which also allows ASE to integrate its key API partners into its own platform.
Now here's the clever part – by using a Console Connect NNI port, ASE was able to access PCCW Global's network on-demand through a real-time, reseller carrier platform, which is fully integrated via an open API.
The API allows the SDN architectures of ASE and PCCW Global's networks to interact with one another in near real-time, which in turn enables Console Connect and ActivePort to provide ASE with orchestrated on-demand services over fully automated and interconnected networks.
The end result is that ASE customers using the ASE centralised portal can instantly provision services across the PCCW Global Network as well as interconnect to Console Connect partners, including cloud and SaaS providers, using the ActivePort-enabled orchestration software.
By automating both their core network and their local loop access, carriers around the world can now fully automate all the way from customer premise (edge) to the cloud in seconds. This in turn means enterprise customers can order, provision and manage all their bandwidth needs, while being able to monitor their connections from edge to cloud through to other services outside the carrier network.
This not only shows the extraordinary levels of automation now available to carriers and enterprises, but also demonstrates just how far carrier interconnection has come over the last two decades.