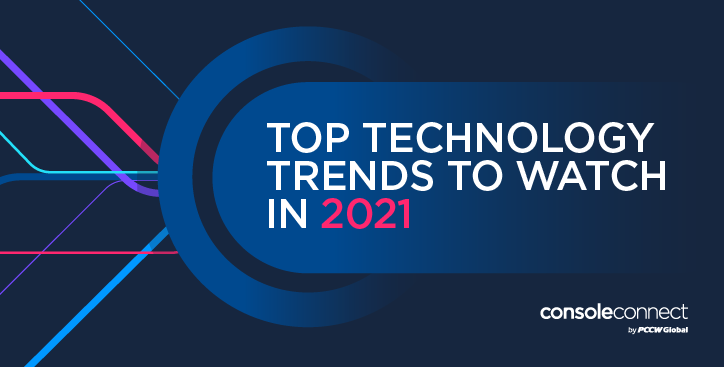 Top Technology Trends To Watch In 2021 (Part 1)
21 December, 2020 by Alex Hawkes
The way we all work fundamentally changed during 2020. The global pandemic has accelerated the pace of digital evolution for many businesses, while prompting others to pivot or change course completely. The response to the crisis will continue well into 2021, but as we edge closer to the end of the year, many organisations will already be thinking about the longer term impact of the pandemic and how to realign their business for growth.
In the first instalment of our predictions for 2021, we look at some of the technology trends and business strategies that will be on the roadmap for enterprises next year.
Investing in the right tools for a virtual workforce
Remote working looks here to stay. According to analysis from Gartner, 48% of employees will work remotely at least some of the time in the post-pandemic world, compared to 30% pre-pandemic.
The pandemic has been a catalyst for the adoption of collaboration tools and apps. Usage of collaboration offerings, such as Zoom, Teams and Slack, rocketed during the year - becoming an important part of workflows and an essential communication channel for employees.
Moving forward these tools seem destined to be a key component of the modern workplace, while other remote working solutions, such as virtual desktop and business continuity, will also become a growing priority for businesses.
"In 2020, many organisations put temporary solutions in place to support the needs of their virtual workforce. In 2021, they will start to think more strategically and long-term about their investments in these collaboration tools and remote working solutions," says Neil Templeton, VP of Digital Innovation Marketing, PCCW Global.
New ways to manage cloud services
Collaboration tools are just one of a number of business-critical applications that organisations rely on that are hosted in the cloud. From CRM through to disaster recovery and marketing automation, today's enterprises are reliant on a much larger number of cloud-based services.
If anything this year has further demonstrated the value and benefits of cloud services to enterprises, which are supporting their work-from-home requirements while also maintaining business continuity.
"The pandemic has magnified the need for agility and scalability, not just with IT systems but also with networking," says Neil.
According to Gartner, enterprise spend on SaaS is expected to increase by 16% to $117.7 billion in 2021, while application infrastructure services (PaaS) spend is expected to grow at an even higher rate of 26.6% to reach $55.5 billion next year.
"Businesses will be trying to optimise management of their cloud-based services next year," adds Neil. "When it comes to accessing cloud-based services and applications, security and performance will be very much front of mind for enterprises. Direct interconnections with a public cloud provider are a great way of enhancing network performance and security when accessing your business critical applications."
Shift in B2B buying
It wasn't just consumers that shifted their buying habits online this year. The pandemic disrupted traditional B2B sales processes and channels, leading many organisations to rethink how they buy and sell services.

According to Gartner, 15% of B2B organisations by 2024 will use digital commerce platforms to support both its customers and sales reps in all sales activities.

The analyst firm says this trend also reflects generational change. Younger business buyers, particularly Millennials, prefer self-service and expect a similar experience with buying B2B products and services to the one they get with online shopping. This means introducing more intuitive navigation, rich product information and 24/7 assistance and support.

"A self-service environment is becoming more important to businesses. They want a world of information available at their fingers tips and the ability to quote, provision and order services on-demand," says Neil. "Console Connect is creating that online marketplace experience for our customers, who can buy, sell and provision connectivity and network services at the click of a button."