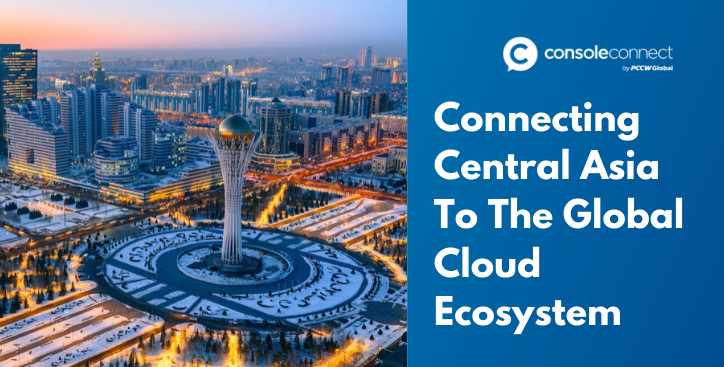 Connecting Central Asia To The Global Cloud Ecosystem
07 April, 2020 by Ilvija Skerskane
A leading telecoms operator in the Republic of Kazakhstan, TNS Plus recently stepped up its plan to revolutionise the local enterprise cloud connectivity landscape by providing a unique range of flexible and reliable connectivity solutions to local and multinational enterprises and service providers.
The operator recognised that Kazakhstan enterprises and tier-two telecoms operators have an increasingly pressing need for flexible, reliable and secure connectivity to the global cloud ecosystem. To date the challenge in Kazakhstan has been that the public cloud has been largely inaccessible due to demanding connectivity requirements and a high barrier to entry. As any large enterprise will know, integration with each public cloud demands a high level of technical investment that is not replicable.
Meeting demand in a growing market
But after multiple requests from major Kazakhstan-headquartered enterprises, including the financial services sector, which required access to multiple public clouds, TNS Plus decided to develop an innovative new package of connectivity solutions.
The operator partnered with PCCW Global to leverage the power of Console Connect to deliver flexible, future proof and reliable connectivity solutions which will allow its growing portfolio of customers to realise the full potential of the growing Central Asian market.
The power, simplicity and flexibility of Software-Defined Interconnection® service was the perfect platform to underpin an ambitious offering for multi-cloud connectivity to the financial services vertical.
Dauren Bukeyev, Director of Carrier Relations at TNS Plus, explained that Console Connect allows the carrier to offer a simple, flexible and reliable service that empowers customers to connect to any cloud of their choice: Microsoft Azure, IBM, Alibaba Cloud, AWS, and more.
The challenge, as ever, in opting for a provider that only supported Amazon Direct Connect for example would have limited customer connectivity to AWS only. In a growing market like Kazakhstan, choice is all important.
Console Connect is completely agnostic when it comes to cloud providers, offering maximum flexibility and choice. Console Connect allowed TNS Plus step up as a market leader providing enterprise and cloud connectivity solutions across Kazakhstan and beyond. The partnership also enables international enterprises to access growing Central Asian market and offers compelling benefits for multiple key verticals including banks and financial groups, smaller carriers, government institutions together with transportation agencies and delivery agencies, said Dauren Bukeyev.
Simple Access - Simple Solution
By handling the configuration of the Console Connect interface on behalf of its own customers, TNS Plus offers Kazakhstan enterprises access to all the public cloud providers through a single point of contact with a low barrier to entry.
This means that the company is rapidly establishing itself as the provider of choice for enterprises and tier-two carriers that recognise the business value of securing secure, reliable and flexible access to a variety of global cloud providers.
Now, local enterprises and tier-two carriers get resilient connectivity to the rest of the world and access to the global cloud ecosystem with a level of flexibility never seen before. Console Connect allows TNS Plus to increase and decrease the bandwidth of connections in almost real time, meaning users only pay for the bandwidth they need, when they are using it.