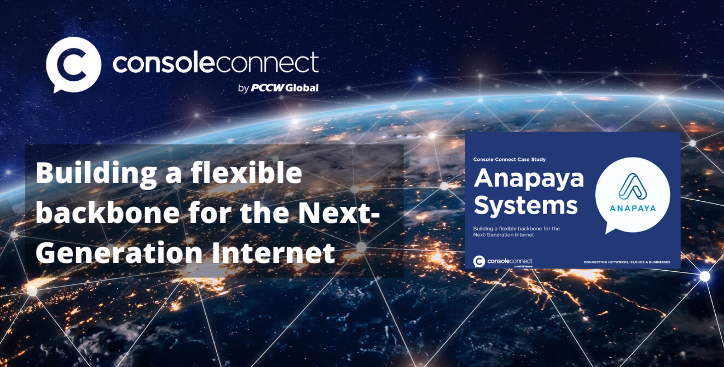 Aiming to provide businesses around the globe with "the next evolution of a B2B internet", Anapaya Systems' lofty ambitions had it seeking a preferred partner that could help it build a flexible backbone that grew with the company, and without significant upfront investment.
Pitched as a way to securely and transparently transport critical business data across a new B2B internet, the SCION-Fabric aims to be an international ecosystem of internet, telecom, hosting, colocation and cloud partners that collaborate to create a B2B-oriented public network, separate from the traditional internet. This next-generation network enables businesses to connect their users, partners and customers to their apps and resources in a path-aware, high-availability, high-performance, and secure way.
The vision of the next-generation internet
Traditionally, a task of this magnitude and scope would have been nigh on impossible to undertake without significant investment in backbone infrastructure, effectively requiring Anapaya Systems to become a network service provider.
But with Console Connect by PCCW Global, Anapaya Systems had the opportunity to invest in its network footprint on a purely opex model, growing the footprint on demand without the financial or resource investment in self-owned infrastructure. This allows Anapaya Systems to focus on its technological added value, i.e. implementing SCION technology in all POPs thus created.
According to Samuel Hitz, CTO of Anapaya Systems, in order to build "the next, fully optimized evolution of a B2B internet," PCCW Global became the partner of choice because of its global reach, true elasticity through Console Connect, and an all opex model.
Hitz said that ultimately, Anapaya Systems intends to become a transit provider and the global reach of PCCW Global is crucial to that vision, as is the fine-grained control of the Console Connect offering.
An ambitious task made possible by SDN
Anapaya Systems' application of Console Connect by PCCW Global supports an ambitious vision. The company is building what is essentially the next-generation internet, based on SCION and designed around the resilience and security of B2B applications.
Ultimately Console Connect is proving itself flexible enough for Anapaya Systems to build, grow, and operate its own backbone network without having to become an infrastructure provider in its own right and purchase its own backbone hardware.
"We are able to reduce our initial operational resources with Console Connect because the number of interconnections and level of elasticity we require is still manageable manually, so we can do it all within the portal," said Hitz.
Only by buying international leased lines can you stay private with dedicated network-to-network connectivity. Anapaya Systems claims the SCION-Fabric is providing the flexibility of public networks, with the robustness, reliability and security of private ones
"You don't have to build one-to-one interconnects with everybody, it's all part of a much larger open ecosystem," said Hitz, commenting on the opportunities opened up by the SDN-powered network-as-a-service model offered through Console Connect.
Michael Glynn, VP Digital Automated Innovation at PCCW Global commented "We are extremely excited to onboard Anapaya Systems to the Console Connect platform. Our Software Defined Interconnection® service has been designed to simplify the on-demand delivery of high-performance international connectivity and we look forward to supporting the growth of Anapaya Systems as they expand their backbone globally."