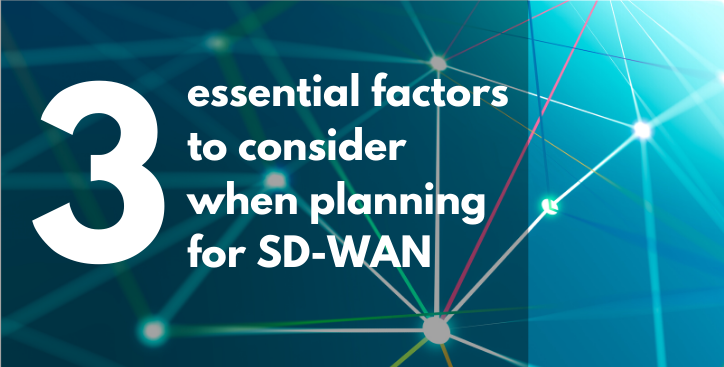 The old workhorse of the WAN - MPLS - has many benefits: optimal routing means MPLS can achieve very low latencies, and the fact that it is a private network bolsters the security. MPLS can also guarantee sufficient bandwidth and managed variation in latency.
This workhorse, however, is slow to deploy and expensive to run. The mix of traffic on the WAN is also changing, encompassing more internet-based applications that don't live within the confines of the corporate network. The solution is a migration to SD-WAN, which offers an appropriate transmission for cloud traffic over the internet, in conjunction with any other network technologies, including MPLS, Ethernet, wireless, private fiber and even satellite.
So, if you're considering the transition to SD-WAN, here are some key considerations to bear in mind:
1. Understand your applications
The planning stage for your SD-WAN migration should include a thorough analysis of your existing applications as well as any planned deployments. It's often the case that an SD-WAN transition is prompted because the existing network wouldn't be able to support an incoming latency-sensitive application like UCaaS.
You may also be moving to a cloud-based CRM, so it's essential to make sure the designated users have access to that deployment. This means you need to look at branch office locations, geographic expansion plans, and security requirements.
Remember SD-WAN is able to dynamically direct traffic over the most appropriate bearer, so it maintains the level of reliability on your network. Of course, you still need to think about access and security requirements for locations.
2. Understand your current contract and plan around it
MPLS contracts typically run for several years and are relatively inflexible. Due to the expensive nature of MPLS, network managers tend to underprovision rather than overprovision for capacity, which is one of the key reasons SD-WAN has come into the picture. It's likely you'll be looking at transitioning to SD-WAN as your MPLS contract comes up for renewal, so if you're looking to reduce your MPLS capacity you need to plan the transition well in advance.
Because network operators sell on capacity and have invested a great deal into their infrastructure, it's not so easy to get out of an MPLS contract early. So you need to establish whether you want to keep your MPLS contract in the short, medium, or long term; or whether you will transition away from MPLS; and how fast you can do that. A misstep here could eat into any cost savings. It might be worth talking to your network operator about their plans for SD-WAN support as they may be able to help you transition smoothly.
3. Understand your in-house skill-set
An SD-WAN migration can be tricky and because it's a new technology you might not always have the right skill-set in-house. So it may be worth looking at a third-party consultant who can help you sense check your migration plan and identify any potential challenges.
Although SD-WAN is becoming fast adopted, there are of course many different flavors of the technology being touted by different providers. Some of the differences in capabilities are subtle and it could well help avoid pain, in the long run, to hire expert help to make sure you're going down the best route for your business.