How To Get Data Center Interconnect Right?
By Ilvija Skerskane|4 March, 2020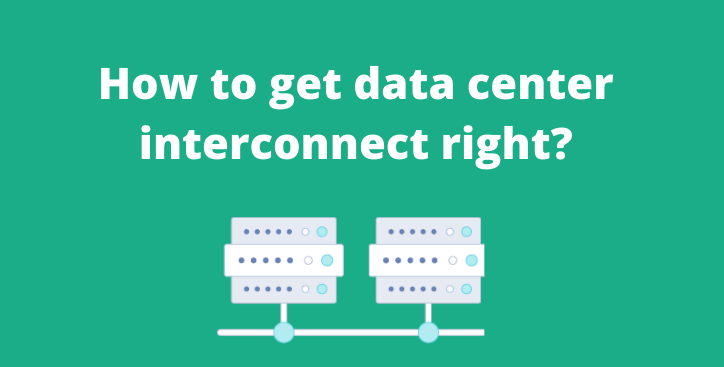 Whether you're a global enterprise with operations in multiple markets or a SaaS provider looking to roll out in new geographies, data center interconnect is a key building block for connecting to customers and partners.
But as is the way with legacy network assets, the challenge for many organizations is how to connect to a diversity of data center infrastructures efficiently, while ensuring you can meet future requirements.
Traditionally, data centers were standalone facilities but in a world where ecosystems have become cloud-centric, the challenge is shifting these data center ecosystems from closed and limited to open and agile.
DCI is relevant in any industry
Indeed, data center interconnect (DCI), the need to connect one cloud or data center to another, is at the heart of new global business models. Although cloud adoption and digital content delivery are driving demand among service providers, DCI is becoming crucial for players in just about any industry. According to the Equinix Global Interconnection Index, global interconnect bandwidth is forecast to grow to over 8,200Tbps by 2021 - a fivefold increase from 2017.
Enterprises that don't migrate out of a traditional ecosystem will lose out on business opportunities as they are unable to reach consumers in new markets. If you're locked into a single data center environment you will struggle to grow in markets where your legacy provider is not present or does not have the right partnerships.
The benefit of Software Defined Networking (SDN) fabrics enable enterprises to interconnect their data centers on-demand, rather than being locked into any single ecosystem. Ultimately this gives you the freedom to grow quickly in new markets or instantly turn up services across a truly global footprint.
The benefits are the same, whether you're an enterprise, over-the-top (OTT) player, content provider, or Software-as-a-Service (SaaS) provider because the networking model removes the limits on traditional DCI.
We recently looked at the case of iotum, which provides conference, meeting, and podcast services. Reliable connectivity to its cloud assets is vital due to the latency-sensitive nature of communications software.
Rather than rely on the public internet, which is unreliable, lacking in resilience, and insecure, the company needed to be able to create dedicated cloud connections to enhance the quality of audio, web, and video calls for its customers.
SDN fabrics simplify control
SDN fabrics mean it is not as costly or complex to interconnect data centers and manage network connectivity. Furthermore, customers are no longer restricted to a single data center environment but are instead tapping into a flexible, fluid and intelligent networking model to create a global interconnect fabric that grows with their future needs.
When new partners, customers or sites need to be connected, the organization can turn up services on-demand, connecting data centers, public clouds, Internet Exchange Points (IXP) and their own various networks.
A single platform such as Console Connect can provision these connections with high levels of automation, enabling businesses to string together an ecosystem of cloud-centric data centers with direct access to the cloud.
Furthermore, the simplified user experience offers real-time visibility into network performance across the entire data center ecosystem. This means you can continually adapt and optimize the network connectivity with granular and real-time control over bandwidth to meet changing needs on an intuitive and intelligent network.