What's new with AWS in 2023
By Alex Hawkes|13 February, 2023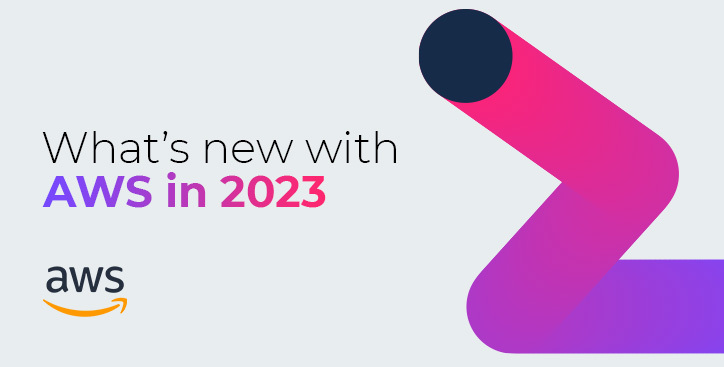 Despite being the oldest and largest cloud vendor, market leader Amazon Web Services, known to all as AWS, is not immune to market trends.
Despite a 20% year-on-year increase in fourth quarter revenue on 2022, growth was considerably slower than the preceding quarters, as companies of all sizes in all sectors reel in their tech spend.

It's a familiar story across the sector, and some of the effects are consequential - if there's less spend on advertising, there's less spend on compute and analytics as a result.

Advertising, like finance and crypto - all big cloud customers, have been hit hard by the downturn.

Still, solid growth is happening, and AWS has not slowed its expansion and investment.
Global expansion in 2023:

US: AWS has said it will spend $35 billion on new data centres in Virginia by 2040. US-EAST-1 is Amazon's oldest region, dating all the way back to the birth of the cloud provider in 2006, making it the largest and arguably most important hub with six availability zones and 10 local zones, across dozens of data centres.

It's good news for Virginia, which remains popular for data centres, with relatively cheap power and attractive government tax breaks.

Australia: The company is also looking to extend its infrastructure much further afield - Australia to be precise, having just launched its second AWS infrastructure region in Melbourne.

Amazon plans to invest more than $4.5 billion in Australia by 2037, providing greater provisioning for local storage and compute to reduce the latency of users in Australia and the local region, as well as providing more product options.

With the launch of the newest Asia Pacific region, AWS now boasts 99 availability zones across 31 geographic regions and has announced plans to launch 12 more Availability Zones and four more AWS Regions in Canada, Israel, New Zealand, and Thailand.

India: In February, AWS announced the opening of a new AWS Direct Connect location in Kolkata, India.

Local companies connecting their network to AWS at the Kolkata location will gain private, direct access to all public AWS Regions (except those in China), AWS GovCloud Regions, and AWS Local Zones

AWS Direct Connect service enables businesses to establish a private, physical network connection between AWS and private data centres, offices, or colocation environments.

The new Direct Connect location in Kolkata is the seventh in India and offers dedicated 1 Gbps and 10 Gbps connections and single-digit millisecond latency for local data processing . This is good news for the burgeoning tech sector in the region.

AWS said this latest investment takes it to over 115 Direct Connect locations worldwide (check out which Direct Connect locations are available on Console Connect).

Brazil: In another expansion this month, AWS made its EC2 High Memory instances available in the South America (Sao Paulo) region.

Amazon EC2 High Memory instances with 12TiB (u-12tb1.112xlarge) of memory are now available in South America and are certified by SAP for running Business Suite on HANA, SAP S/4HANA, Data Mart Solutions on HANA, Business Warehouse on HANA, and SAP BW/4HANA in production environments.
Improving management and analytics
With so many businesses focusing on more efficient management and monitoring of their cloud platforms and services, it comes as no surprise that at the AWS annual re:Invent conference at the end of 2022, the major theme was on Amazon's efforts to ease data management and analytics for enterprises.
The launch of Amazon Aurora zero-ETL integration with Amazon Redshift and Amazon Redshift integration with Apache Spark are intended to make the extract, transform, load (ETL) process obsolete, easing the data integration process that combines data from multiple data sources into a single, consistent data store that is then loaded into a data warehouse.
A data management service, AWS DataZone, is designed to help enterprises identify and assess, discover, share, and govern data stored across AWS, on-premises, and third-party data sources.
In a major update to its cybersecurity service, Amazon Security Lake, automatically centralises security data from public cloud and on-premises sources into a purpose-built data lake that lives in a customer's AWS account.
With enterprises storing and processing more data than ever, compute requirements continue to grow, despite reduced spend. To stay ahead of demand for intensive computing services, AWS has released updates for extremely heavy workloads. Amazon EC2 Hpc6id Instances are designed to support the "most intensive workloads with higher per-vCPU compute performance as well as larger memory and local disk storage to reduce job completion time for data-intensive workloads."
Interest in Machine Learning (ML) continues apace and the provider will add new features to its managed machine learning service, Amazon SageMaker, designed to improve governance attributes within the service. The updates will allow enterprises to scale governance across their ML model lifecycle.
The challenge is that as the number of machine learning models increase, managing the task of setting access controls and establishing governance processes to document model information, such as training environment information, becomes complex. Data engineering teams regularly use spreadsheets but as the size of machine learning teams increases, a more robust solution is needed.
Another complex process that AWS has identified for improvement is that of change management. The company has introduced a tool to improve efficiency.

Change Manager, a capability of AWS Systems Manager, helps customers request, approve, implement, and report on operational changes to their application configuration and infrastructure on AWS and on premises.

With this launch, customers can set a required number of approvers for a change request - three for example - before adding all eligible approvers.

Meeting supply and demand
It seems a natural move for a company spawned out of the Amazon family, now AWS is seeking to apply that Amazon know-how with a foray into supply chain management.

The application - AWS Supply Chain - integrates ML to help large enterprises get a unified view of suppliers, inventory, logistics and other supply-chain related activities.

"AWS Supply Chain unifies supply chain data, provides machine learning-powered insights that are actionable, and offers built-in contextual collaboration," the company said, with a focus on "reducing stock-outs and helping lower costs by reducing over-stock".

When a supply chain risk is identified, AWS Supply Chain provides inventory rebalancing recommendations and built-in, contextual collaboration tools to help coordinate across teams to implement solutions.