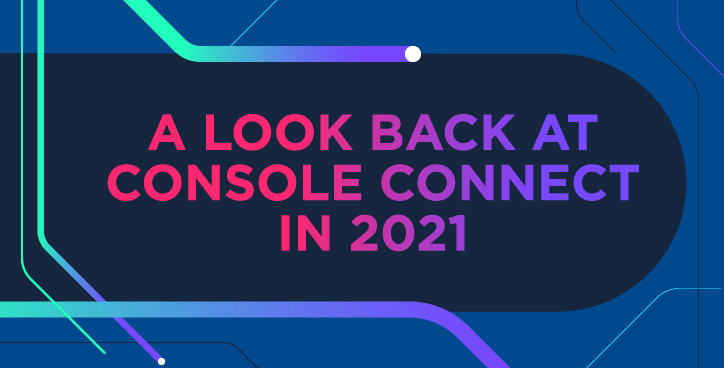 A Look Back At Console Connect In 2021
20 December, 2021 by Alex Hawkes
If the events of the last two years have proved anything it is that businesses need to be prepared for the unexpected.
The ability to embrace change and adapt rapidly to uncertainty has become essential for businesses. In 2021, Console Connect continued to put agility at the heart of our organisation – both in terms of our approach to technology innovation, and also in how our automated platform is helping businesses embrace digital transformation.
This has enabled us to introduce a greater choice of on-demand services for our users in 2021, as well as enhance the functionality of the Console Connect platform.
In this final blog of the year, we take a look back at some of the key events in the Console Connect calendar during 2021…
Creating a MeetingPlace for people, applications and infrastructure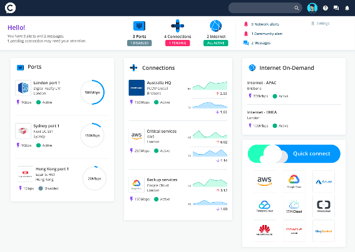 You may have noticed a number of changes to the Console Connect management portal in the last 12 months.
Our development team in Brisbane is continuously making enhancements to the design features and functionality of our web application in order to make connecting even easier, faster and more intuitive. In 2021, we introduced a new dashboard and pricing calculator to our web portal, and also launched the MeetingPlace.
MeetingPlace is where users can explore, order and provision partner services, such as remote peering, colocation, SaaS and business applications, as well as access a range of home-grown features and solutions from PCCW Global.
As part of the initial launch of the MeetingPlace in July, Console Connect introduced a new IX-as-a-Service (IXaaS) that enables high-performance peering with some of the world's largest Internet Exchanges.
Using Console Connect you can now buy, order and provision peering services from leading Internet Exchanges, such as LINX, DE-CIX and more, and directly manage both your peering service and connectivity through one platform.
Since the launch of IXaaS, we've on-boarded a number of new IX reseller partners, such as AMS-IX. Log-in to the platform now to see which of your business partners are already on MeetingPlace.
Taking NaaS global
2021 saw the continuation of a trend towards 'X-as-a-Service', with more businesses renting rather than owning infrastructure and applications, and shifting from capex to opex in order to be more agile.
More CIOs are in particular seeing the value of moving to a Network-as-a-Service (NaaS) model. This is just the beginning for NaaS, with the global NaaS market estimated to grow from approximately $8 billion in 2020 to more than $45 billion by 2026, according to Mordor Intelligence.
The scale and reach of the underlying network is an important consideration for businesses that are adopting NaaS.
That's why in 2021 Console Connect continued to extend our global reach to more than 650 data centres, while also expanding our Internet On-Demand (IO-D) Service to more than 25 markets worldwide. Console Connect is the first NaaS platform to automate a global Tier 1 IP network, enabling our users to instantly quote, provision and manage their global internet access.
IO-D is one of a number of on-demand services now available through a single Console Connect Access Port, which can connect you directly to clouds, data centres and business partners.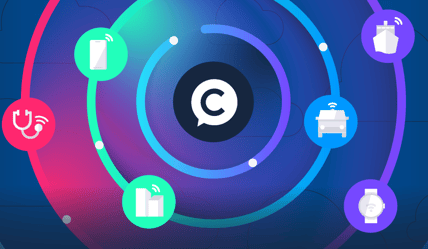 IoT connectivity is also becoming part of our extended on-demand service offering. In 2021, we introduced the ability to directly order, activate and manage IoT Sims through Console Connect, giving our users complete end-to-end control and visibility over their IoT assets worldwide.
The GSMA-compliant SIM accelerates global IoT deployment and extends network reach for businesses by providing instant coverage across 180 countries, leveraging PCCW Global's Tier 1 high-performance network.
The return to live events
Although many industry events continued in virtual form during the pandemic, 2021 reminded us of the value of meeting with colleagues, partners and customers in person.
The Console Connect team returned in style to a number of major tech and telecoms events in the latter half of the year.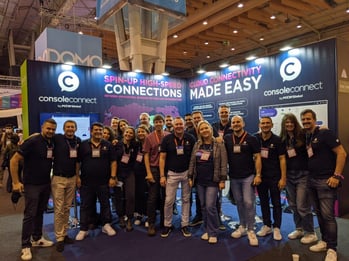 Console Connect was one of 211 exhibitors at Web Summit in November. Back after a two year absence, there was a real buzz around the three day event in Lisbon, which attracted over 40,000 visitors.
Our marketing campaign for the event was "Cloud Connectivity Made Easy" as we highlighted to the start-up and tech community how they can directly access all the world's largest public cloud providers in real-time and on-demand using Console Connect.
Speaking of cloud providers, the team was also in Las Vegas for AWS Re:Invent. Now in its tenth year, the AWS customer event was a great opportunity to showcase our extensive global access to AWS Cloud, with more than 30 AWS Direct Connect locations now available on the Console Connect platform.
During the event Console Connect's Jay Turner and Garret Lowell were interviewed by SiliconAngle media on The Cube - you can catch the full interview here.
Extending our reach across Asia Pacific
The Console Connect platform and underlying network offers extensive on-demand connectivity between key markets within the Asia Pacific region. During 2021, we expanded our presence further in the region by adding more data centre, cloud, SaaS, IoT and IX partners.
In Singapore, which is rapidly emerging as a data centre and cloud hub for the region, we partnered with Princeton Digital Group and Digital Realty to help more businesses access cloud platform providers in Asia.
To meet the growing demand enterprise cloud services in Asia Pacific, there continues to be investment in new public cloud infrastructure in the region – with Oracle Cloud opening its Oracle Cloud Singapore Region in November (direct interconnections are already available through Console Connect).
Through an API-enabled network-to-network interconnection with DCConnect, Console Connect has also been able to seamlessly extend our reach to data centres across mainland China using on-demand, high-performance connectivity.
The collaboration adds 45 on-net data centre locations to our platform, giving our users instant access to leading data centres in some of mainland China's largest financial, retail and manufacturing hubs, including Beijing, Guangzhou, Shanghai and Shenzhen.
Finally, in November, we launched a new IoT Gateway to enhance the security, speed and performance of IoT connectivity in Asia. You can find out more about how to get started with new IoT projects in Asia in our latest e-book.
Ending the year on a high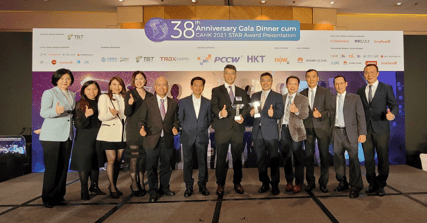 What better way to end 2021 than by collecting more awards?
In December, the Console Connect platform was recognised a further three times by our peers, bringing our total number of award wins in 2021 to five.
Last week, we were delighted to collect the Network Automation Award at Total Telecom's Asia Communication Awards, while earlier this month our platform was recognised at both the CAHK Star Awards and the Telecom Review Excellence Awards.
What's more is we got to celebrate a few of these award wins in person at events in London, Hong Kong and Dubai!
Full list of Console Connect award wins in 2021:
Network Automation Award, Asia Communication Awards
Best Innovation for Future Enterprise, CAHK STAR Awards
Best Carrier Enterprise Services, Telecom Review Excellence Awards
Platform Award, World Communication Awards
Network Virtualisation Innovation of the Year (Platinum), Juniper Research's Future Digital Awards for Telco Innovation
Thanks to all our users and partners for your support in 2021, and Season's Greetings from everyone at Console Connect!