How To Optimise Your Cloud Infrastructure In 2023
By Alex Hawkes|16 January, 2023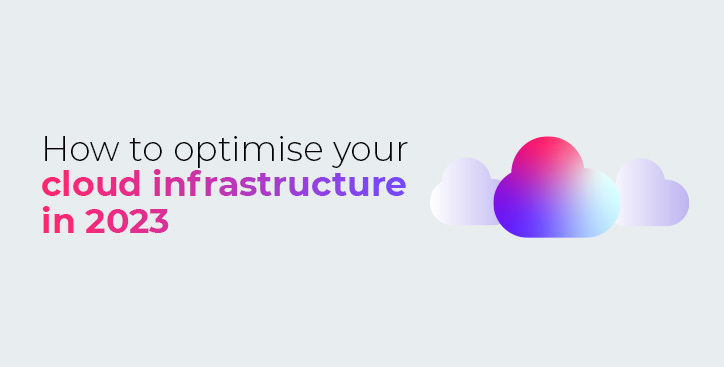 With costs rising across the board, business leaders are seeking to become more savvy about their tech expenditure.
It's now well recognised that without proper oversight, cloud costs can easily spiral out of control, but reducing spend isn't always easy. Understanding when and where to make changes to your infrastructure is what is key to maximising productivity and ROI from cloud infrastructure investments.
Ultimately, the cloud is playing an increasingly central role in supporting operational efficiency, but getting the most productivity for your spend can be a delicate art.
Optimisation of cloud infrastructure means correctly selecting and assigning the most appropriate resources to a workload or application and then measuring performance, compliance, and cost to achieve efficiency.
It sounds simple enough in theory, but every application's needs are unique and can evolve over time.
Monitor and measure
The first step is to establish effective monitoring and measuring protocols.
If you don't know what the business is consuming - and remember that cloud consumption happens at a functional level, so it doesn't always sit with IT or the CIO - then you can't identify changes to make for optimisation purposes.
This needs to happen at an infrastructure, platform, application, and network level, because cloud consumption is made up of hardware and software usage, and various blends of both, and network connectivity to those environments.
There are a wealth of cloud-native and cloud-agnostic tools out there to explore.
Automation is your friend
According to Gartner in its 'Predicts 2022: Driving Toward Digital Infrastructure Platforms' study, by 2025, 70% of organisations will implement structured infrastructure automation to deliver flexibility and efficiency, up from 20% in 2021.
Historically, due to a lack of common standards, businesses and providers in the cloud ecosystem have long relied on proprietary interfaces to interconnect with the various other partners in the ecosystem.
But the rising accessibility of open standard APIs bridge the gap between lower layer network infrastructure and higher layer OSS and BSS.
This helps manage interconnectivity to and between cloud-based infrastructure, platforms, and software partners - meaning business users now have more control of when, what, and how much of services they consume, with open APIs acting as the glue for ease of integration and consistent communication between the different parties.
In fact, many CIOs and IT managers see cloud automation as one of the single most important methods for optimising cloud costs through self-aware instances (application-aware cloud) and self-optimising cloud apps.
A simple example here might be that most non-production systems do not need to run overnight or during weekends. With automated scripts you could shut these down and immediately see a significant cost reduction. Automation can also be used to supplement right sizing and dealing with over-provisioning of resources.
Through Network-as-a-Service platforms like Console Connect, it's now also possible for CTOs and IT managers to leverage APIs to automate their networking to meet the needs of their businesses.
Scheduling and auto-scaling
This brings us on to scheduling and auto-scaling to ensure you maximise the utilisation of resources.
The on-demand nature of the cloud lends itself well to workloads that change dramatically over time, so making use of appropriate scheduling or auto-scaling can decrease costs significantly.
If you have a virtual server that only has a CPU utilisation of 5% for example, you will still be billed for 100% of that CPU. So hunting down underused resources and consolidating jobs onto fewer instances can maximise the load and improve cost.
Making use of scheduled or reserved instances can also be more attractive when compared to on-demand pricing.
Governance means improved oversight
Although smaller organisations may be able to get away without well-defined processes, a business can quickly and easily lose visibility of all its cloud consumption.
One of the great benefits of the cloud is that almost anyone in any function can spin up cloud instances, the downside is that these can quickly become mission critical and might not be on the CIO's radar.
So there comes a point when governance paves the way to a more efficient usage of the cloud and a business should look to establish a governance model up front that will dictate approvals for adopting new cloud resources as well as monitoring usage to make sure costs don't spiral out of control.
Shop around
As well as avoiding vendor lock-in, assessing the relative strengths and weaknesses of different cloud providers can optimise your infrastructure for the application. Oracle Cloud is becoming known for bare metal applications for example, while Google Cloud Platform (GCP) is strong in AI, and Machine Learning. Microsoft Azure on the other hand, has deep integration with other Microsoft products.
Each provider also has its own selling points for migration of applications and services too. Google Cloud recently claimed it can quickly migrate applications running on VMware to Google Cloud and reduce VMware environment total cost of ownership by as much as 30% over on-premises costs, or migrating SAP to the cloud with a 46% lower three-year cost of operations.
So it pays to weigh up your options.
Visibility into spend
Understanding cloud bills is notoriously difficult. So it's easy to lose visibility of cloud costs and cloud value. It's also difficult to keep tabs on usage that can change in real-time. CIOs and IT teams need to ensure they have insight into live cloud costs, as well as being able to see the big picture - understanding how those costs translate into ROI for the business.
Cloud applications that have their ongoing demands dynamically matched to the optimal supply of infrastructure and services run better, require fewer management resources, and deliver maximum value.
But business leaders can often be caught between the requirements of the finance departments and intentions to just cut cloud spend, versus functional application owners who want to increase cloud consumption, and the applications themselves which can see demand grow and contract over time. Finding alignment between these different approaches is key to maximising ROI.